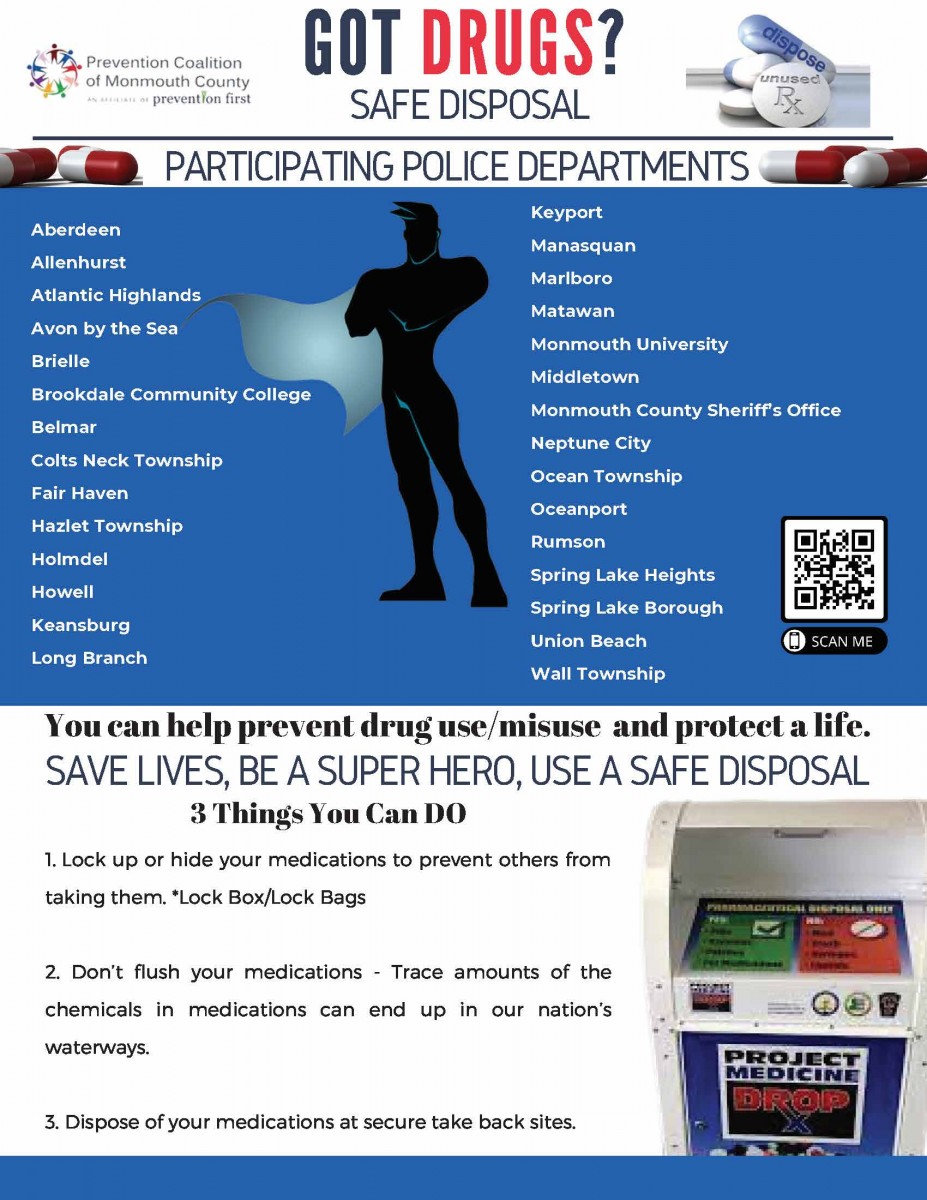 ---
May 2022 Neptune Alliance Prevention Article
First-Time Teen Substance Use Spikes in Summer!
Teen boredom can be associated with sensation-seeking, depression, and at-risk behaviors such as substance misuse, according to Washington State University researcher of adolescent development, Elizabeth Weybright. In analyzing data from the annual Monitoring the Future survey, Weybright and colleagues also found a nationwide increase in adolescent boredom over the last decade, along with increases in digital media use and isolation and a decrease in spending time with friends (https://www.sciencedaily.com/releases/2019/11/191119123750.htm).
The summer months provide students with a welcomed break: time to quiet the mind, sleep in, socialize with friends, enjoy the outdoors, and take things as they come. Despite the need for down time and relaxation, too much idle, unchaperoned time during the summer months can lead youth to more readily entertain negative influences, experiment with alcohol or drugs, or participate in activities that offer risk and adventure. These at-risk behaviors can all result in lasting unfavorable consequences, such as life-changing accidents, substance use disorders, and even death.
While school is out, most parents continue their typical 9-to-5 work schedules, and although summer camps and babysitters keep younger kids occupied and safe, pre-teens and teens are usually left in charge of themselves, without a parent's watchful eye or words of caution. Even parents who stay home or work remotely may not pay close enough attention to their children's whereabouts.
According to a Substance Abuse and Mental Health Services Administration's (SAMHSA) report (http://archive.samhsa.gov/data/2k12/NSDUH080/SR080InitiationSubstanceUse2012.pdf),  first-time substance use among adolescents under 18 years of age spikes during June and July, in some case more than doubling during the summer months. The report indicates an increased initial use of alcohol, marijuana, inhalants, hallucinogens, cocaine, cigar and cigarette smoking, and smokeless tobacco consumption during these two months.
Encourage Teens to Have a Safe, Sober Summer by…
Pre-scheduling summer activities (sports, camps, SAT/academic courses)
Having teens set summer goals to achieve before returning to school
Helping teens choose and apply for a summer job of interest
Making teens responsible for household projects that teach new skills
Arranging for supervision and regular check-in times while you are at work
Knowing who teens are with and when they come and go
Getting acquainted with teens' friends and their friends' parents
Educating teens about substance abuse and its negative consequences
Emphasizing the positive outcomes of good decision-making
Maintaining open communication and listening to teens actively and without distraction or judgment
Setting and enforcing clear boundaries, rules, and consequences for teens
Planning family time (vacations, day/evening/weekend trips, family meals)
Rewarding and praising teens' positive behavior
Article by Christa Riddle, All About Writing
Brought to you by the Neptune Municipal Alliance to Prevent Substance Misuse and the Governor's Council on Alcoholism & Drug Abuse
---
April 2022 Neptune Municipal Alliance Prevention Article
Earn Your "Be There" Certificate Today to Help
a Friend or Loved One Needing Mental Health Support!
The "Be There Certificate" is a free, online, self-paced learning experience that provides youth–and people of all ages–with the knowledge, skills, and confidence needed to safely support someone struggling with their mental health. The program aims to increase mental health literacy and knowledge of support resources available so people facing a mental health struggle don't feel alone or ashamed to share their feelings and get help.
"Be There" provides a deep understanding of "'Be There's' 5 Golden Rules"–a simple but actionable framework on how to recognize when someone might be struggling with their mental health, how best support that person, and how to connect them to the help they deserve.
Although the program was created with youth ages 16 to 24 in mind, anyone can complete the "Be There" course and get certified. Participants must be at least 16 years old to take the course, but "Be There" users are not restricted; youth under age 16 can do the course with an adult, or a parent or guardian can give them permission to do so.
"Be There" was created by Jack.org in partnership with Lady Gaga's Born This Way Foundation to encourage youth to talk comfortably about mental health, as well as to grow a network of support so youth struggling with their mental health can get the help they deserve.
Register here TODAY to complete your "Be There Certificate": https://betherecertificate.org/.
If someone is at risk of harming themselves or others or is in crisis, always call 9-1-1. There are also 24/7 helplines available, such as the National Suicide Prevention Lifeline at 800-273-8255 and SAMHSA's National Helpline at 800-662-4357.
Article by Christa Riddle, All About Writing
Brought to you by the Neptune Municipal Alliance to Prevent Substance Misuse and the Governor's Council on Alcoholism & Drug Abuse
---
Thanks to NHS SAC Callie Peters for conducting Neptune's Sport Prevention Plus Wellness Program !
The program was sponsored by our Neptune Municipal Alliance to Prevent Substance Misuse, with support from the Monmouth County Division of Behavioral Health & GCADA (Governor's Council on Alcohol & Drug Abuse)
JANUARY 26, 2022            Sport Prevention Plus Wellness Blog
Neptune Township Improves High School Adolescent Alcohol & Drug Use Social Norms & Perceived Harmfulness
The one-session evidence-based SPORT Prevention Plus Wellness program was implemented to high school adolescents in 9th grade health classes by the Neptune Township Municipal Alliance in Neptune, NJ. 
Callie P., a Student Assistance Counselor, provided the program to 107 students at Neptune High School during January 2022.  
Most participants were female (54%) and were either 14 (58%) or 15 (40%) years old. 
Pretest to posttest survey results are shown below. 
Social Norms
There were reductions in the perceived use of four substances by peers (descriptive norms) from pretest to posttest. 
There was a 9% reduction in the belief that most people your age currently drink alcohol. 
There was a 7% decline in the belief that most people your age currently smoke cigarettes. 
There was an 11% decrease in the belief that most people your age currently use marijuana. 
Lastly, there was an 11% reduction in the belief that most people your age vape e-cigarettes. 
Perceived Harmfulness
Perceptions of harmfulness increased from pretest to posttest for three substances.  
There was a 17% increase in the perception that using alcohol regularly would harm your health or healthy behaviors a lot to a great deal. 
There was also a 14% increase in the perception that regularly using marijuana would be harmful a lot to a great deal. 
Finally, there was a 5% increase in the perception that smoking cigarettes would be harmful a great deal. 
Behavioral Intentions
Intentions to engage in two healthy behaviors increased while intentions to use marijuana use decreased from pretest to posttest.  
There was a 6% increase in intentions to eat mostly healthy foods most days a week during the next year. 
In addition, there was a 9% increase in intentions to practice a stress control or relaxation technique most days a week during the next year. 
Results also indicated a 6% increase in being unlikely to very unlikely to try any marijuana in the next year. 
What Participant's Liked
Most youth responded they liked participating in the SPORT PPW programs.  Below are some comments students wrote after attending the program. 
I liked that we got to discuss the valuable thinks to keep our bodies active and stuff to stay away from that can damage it.
Now I know what to do in case of being stressed or how to live a healthy life.
Taught me how to take care of my body more by eating breakfast and working out and staying active and how drugs can really ruin your body.
It motivated me to stay healthy.
It was cool.
I was taught ways of how to feel better about myself.
I liked how we learned how many hours of sleep to get.
It helped me understand the huge impact that drug use and alcohol use had in your mental and physical health. 
Conclusion
Congratulations to the Neptune Township Municipal Alliance for successfully implementing the SPORT Prevention Plus Wellness program to high school adolescents in their community. 
Their efforts resulted in correcting normative beliefs that overestimate how many peers use alcohol and drugs, as well as increasing perceived harmfulness of alcohol and drug use which is associated with less likelihood of using these substances in the future.  
Student comments after receiving the SPORT PPW program supported the quantitative data and emphasized positive outcomes regarding improved motivation to stay healthy, engagement in protective fitness and health behaviors and avoidance of alcohol and drug use. 
We wish to thank Callie P. and everyone at the Neptune Township Municipal Alliance for their outstanding efforts toward improving the physical and mental health of youth in their region.
---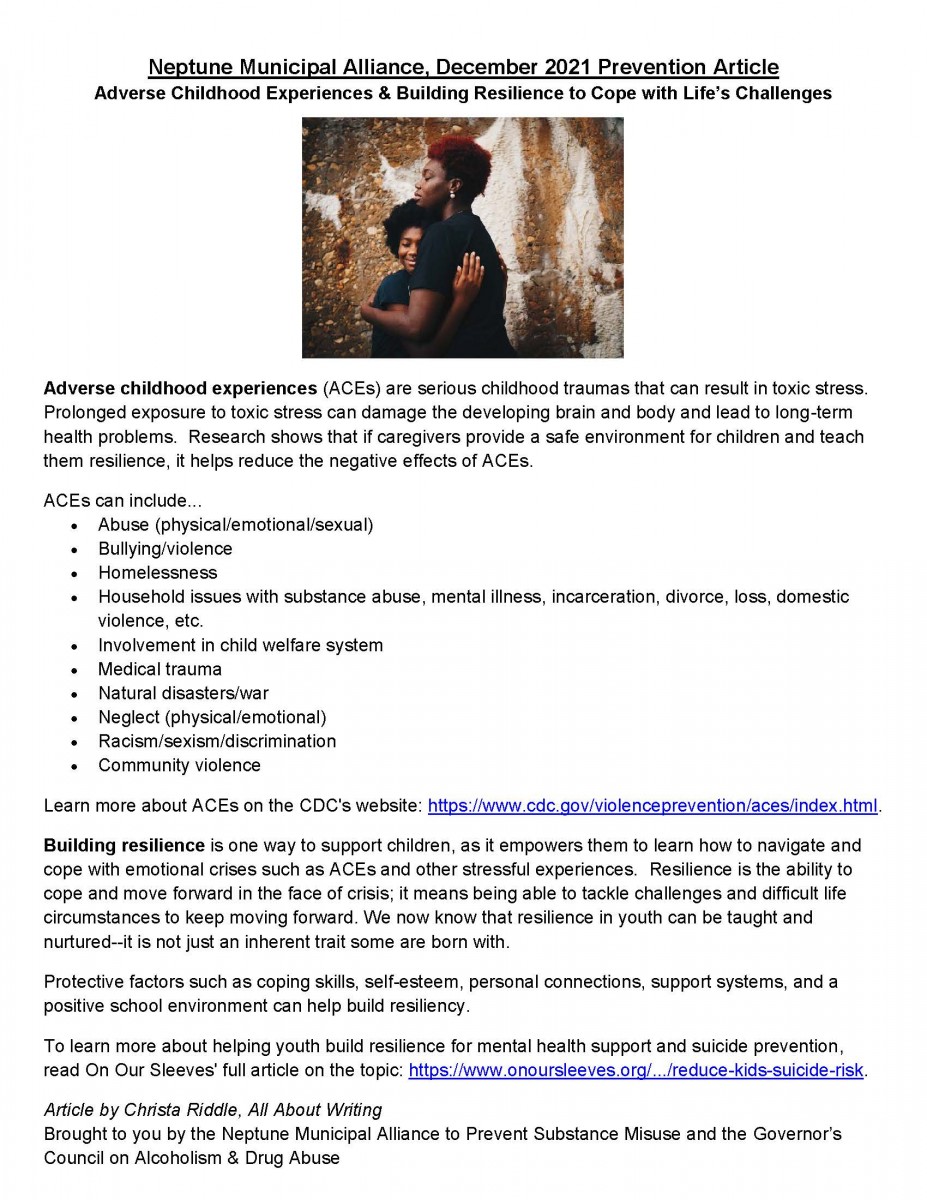 ---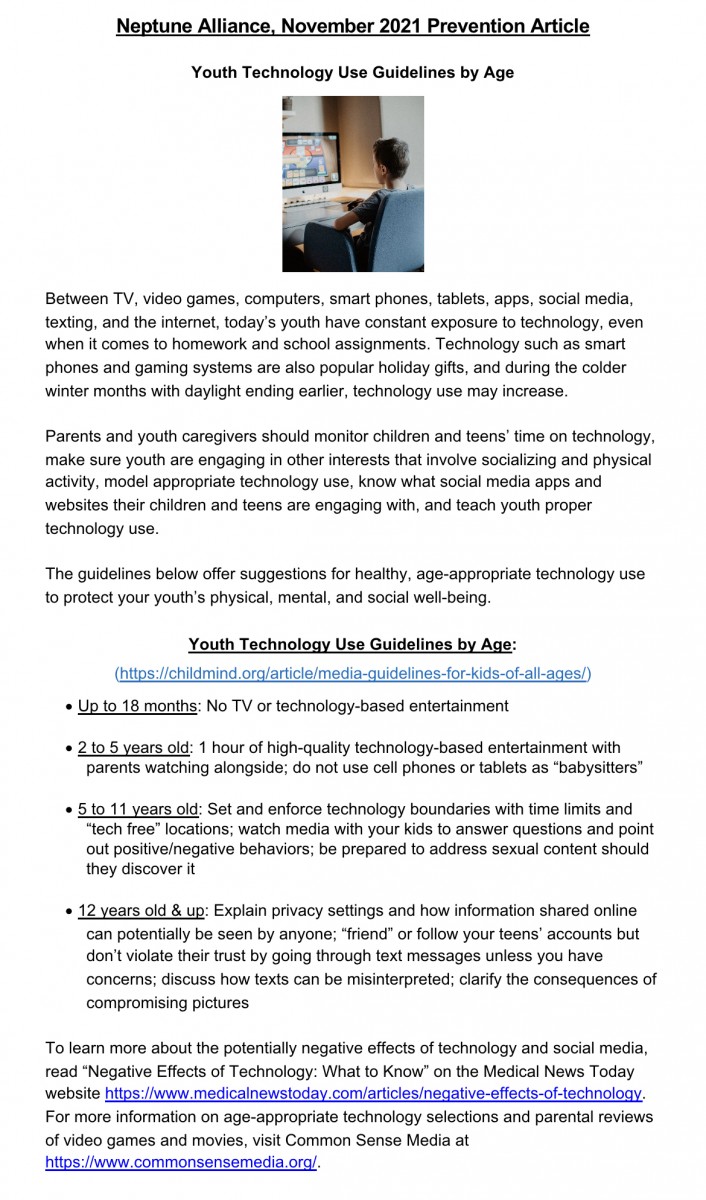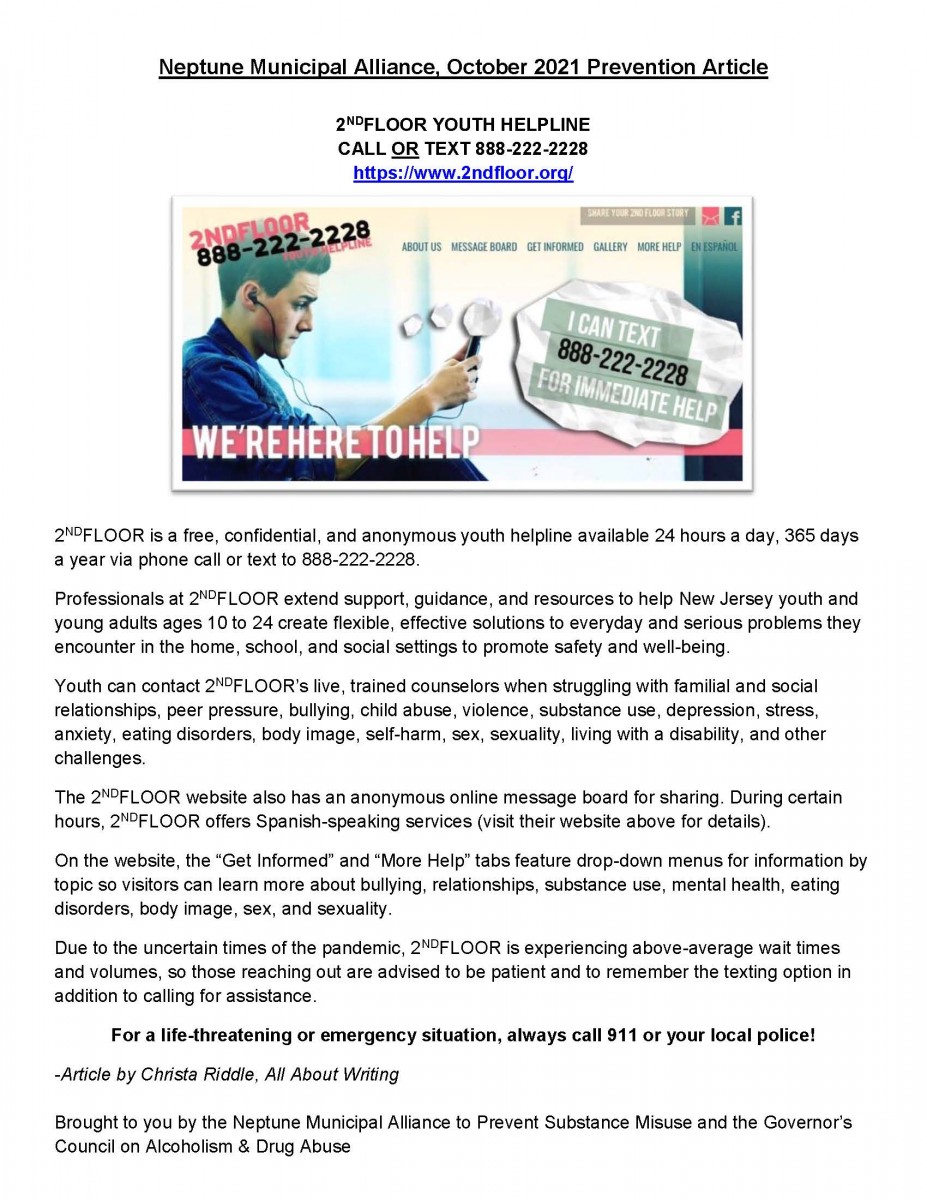 ---
---
Neptune Alliance, August 2021 Prevention Article
Alcohol Poisoning Is Not a Myth: It Can Be Life-Threatening!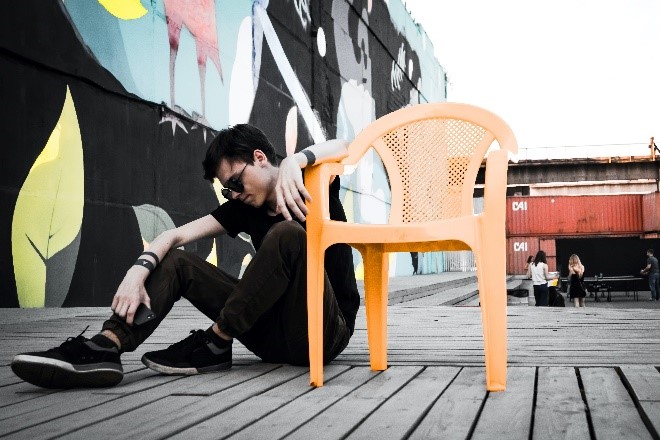 Summer socializing in relaxed and celebratory settings often means drinking more alcohol than usual, increasing the risk of alcohol poisoning, or alcohol overdose.
"Alcohol poisoning is not a myth, it is life-threatening and requires immediate medical attention," says Executive/Medical Director Diane Calello of the NJ Poison Control Center at Rutgers NJ Medical School, Dept. of Emergency Medicine.
Binge drinking at parties by youth and college students can also lead to alcohol poisoning. Share this information with teens and young adults to prevent a tragedy.
Dangerous effects of alcohol poisoning include…
-Vomiting
-Irregular breathing and heart rate
-Seizures
-Coma
-Death
These can happen quickly and escalate over a short period of time, especially after hours in the hot sun and heat of summer. They can also intensify based on factors such as a person's gender, weight, hormone levels, metabolic rate, prescriptions/illegal drug ingestion, and food consumption.
How can alcohol poisoning tragedies be prevented?
-Drink responsibly to prevent it from happening
-Become familiar with potential drug-alcohol interactions for prescription and over-the-counter medications you take
-Know the warning signs of alcohol poisoning (mental confusion, unconsciousness or unresponsiveness, slowed or irregular breathing or heart rate, pale skin, low body temperature, increased blood pressure, vomiting, and seizures)
-Never let someone "sleep it off"; aside from alcohol poisoning, an intoxicated person can choke on their vomit and die
-Call 9-1-1, as it is a medical emergency (under the NJ Overdose Prevention Act, if you help an overdose victim in good faith, you and the person overdosing on alcohol or another substance are immune from arrest)
-Call the Poison Control Center at 800-222-1222 to learn more about alcohol poisoning/overdoses
 
---
Thanks to all our sponsors and volunteers for a fun Cops vs Kids 2021 Kickball Game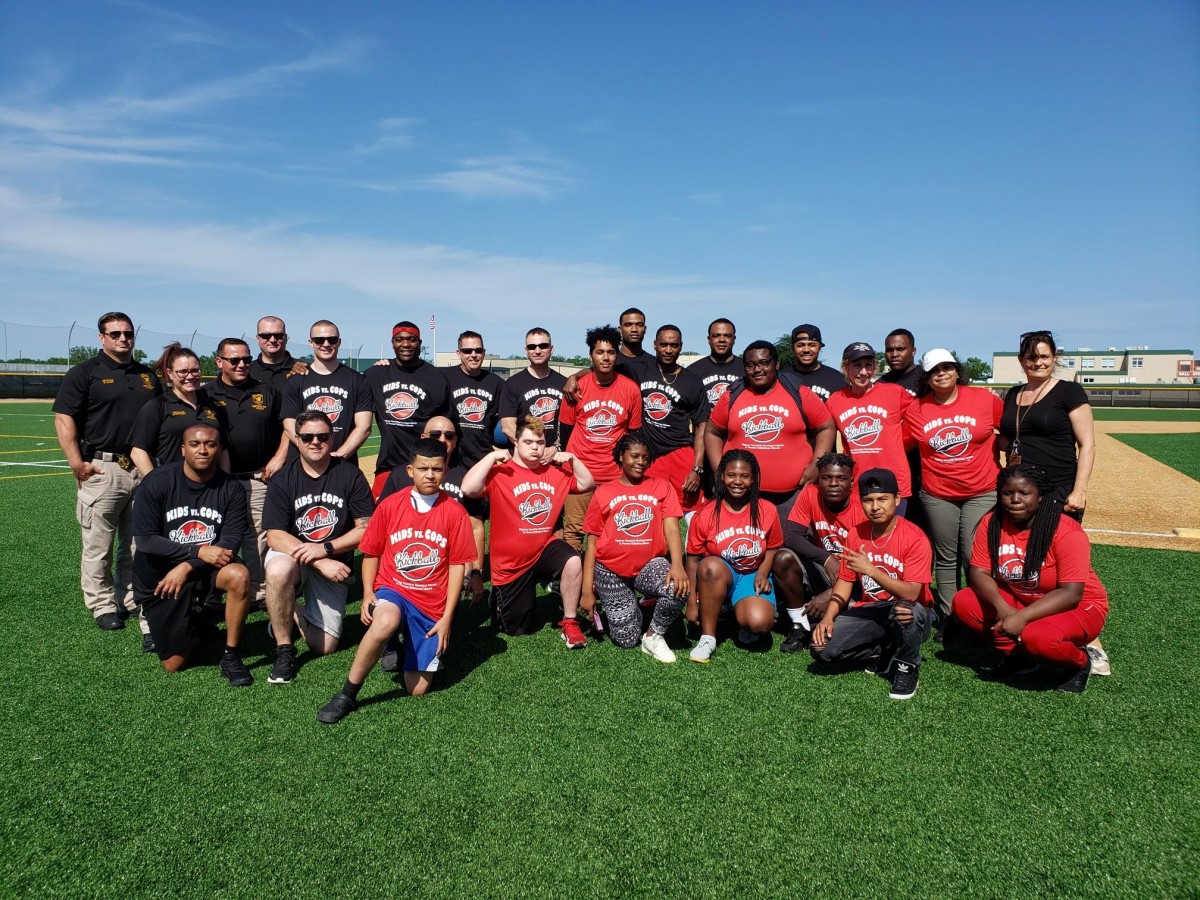 ---

Monmouth County
2021-22 Children & Youth
Behavioral Health
Resource Guide
Please CLICK HERE to view this guide
---
The Opioid Epidemic: Counterfeit Pills


 
Neptune Alliance, June 2021 Prevention Article
If You Feel Different, You Drive Different!

Summer barbecues, pool parties, graduation celebrations, and holiday weekends can bring along an increase in alcohol and substance use. According to the National Highway Traffic Safety Administration's (NHTSA) January 2021 issue of Traffic Safety Facts, 65% of drivers involved in serious and fatal vehicle crashes tested positive for at least one drug.
During the upcoming months summer festivities and throughout the rest of the year, it is important to remind yourself and your friends and loved ones that if you feel different, you drive different! In all 50 states and Washington D.C., it is illegal to drive under the influence while impaired by any substance.
Impaired driving can result from both legal and illegal substances, such as…
-Alcohol, which slows coordination, judgment, and reaction time
-Marijuana, which also slows coordination, judgment, and reaction time
-Cocaine and methamphetamine, which cause aggression and recklessness
-Prescription and over-the-counter medicines, some of which cause dizziness, drowsiness, and other impairing side effects
Using two or more substances at the same time can increase impairment levels.
For more information on how these substances impact your brain and body, visit the National Institute on Drug Abuse's "Drug Topics"  https://www.drugabuse.gov/drug-topics. To learn more about driving under the influence, visit the NHTSA's "Risky Driving" https://www.nhtsa.gov/risky-driving.
Please remember to plan ahead when heading to a summer celebration. Stay sober if you are driving. If you are under the influence of alcohol, marijuana, or any impairing substance, arrange for a ride sharing service, take public transportation, or call on someone sober to drive you home.
-Article by Christa Riddle, All About Writing
Brought to you by the Neptune Municipal Alliance to Prevent Substance Misuse and the Governor's Council on Alcoholism & Drug Abuse
---
Vaping Disease EVALI Called Attention to E-Cigarette Risks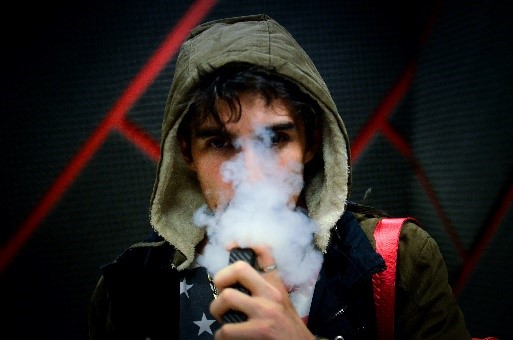 2,800+ cases of e-cigarette, or vaping, product use associated lung injury (EVALI) hospitalizations were reported in the U.S. and its territories
68 EVALI deaths were reported across 29 states and Washington D.C.
The median age of patients who died from EVALI was 49.5 years, with an age range  from 15 to 75 years (above numbers reported as of 2-18-2020)
Vaping products with THC proved to be prevalent in the reported cases of e-cigarette, or vaping, product use associated lung injury (EVALI). THC was found in most of the tested products, and most patients reported a history of using products containing THC—THC (tetrahydrocannabinol) is the psychoactive component of marijuana that produces the high sensation. Vitamin E acetate was found in FDA- and state-lab-tested product samples, as well as nationwide CDC-tested patient lung fluid samples.
Affected EVALI patients presented a variety of symptoms, including coughing, pleuritic chest pain, shortness of breath, fatigue, fever, chills, headaches, nausea, vomiting, appetite loss, and diarrhea. Patients were hospitalized due to a need for respiratory support and ventilation, and all had a history of vaping.
As an immediate response to the initial EVALI outbreak in 2019, The Centers for Disease Control and Prevention (CDC) recommended avoiding use of all e-cigarette and vaping products to eliminate risk. They later amended risk control as refraining from using e-cigarettes specifically containing THC, and that Vitamin E acetate should not be added to e-cigarette or vaping products.
In general, the CDC states that e-cigarette or vaping products with nicotine or THC should never be used by youths, young adults, and pregnant women, and that adults who do not currently use tobacco products should not start using these products.
Vaping Risks Beyond EVALI
The alarming rise of youth vaping has been, in part, fueled by a lack of parent and youth education regarding the risks surrounding e-cigarettes, before and after the EVALI outbreak. Because vapes resemble familiar school supplies such as pens and flash drives, are easy to conceal, and do not emit the tell-tale odors of traditional cigarettes or marijuana joints, young people are vaping in school, right in the company of their teachers.
After inhaling the vapor, teens exhale into water bottles or their shirts to avoid detection. Adding to the youth vaping epidemic is the fact that the sleek devices and their appealing flavors are marketed in ways that attract teens.
Many youth and adults are unaware of the high nicotine potency delivered by e-cigarettes and refillable vaping devices that allow for customizable nicotine levels that are not regulated. A single Juul-manufactured pod houses the same amount of nicotine as a pack of traditional cigarettes; some youth smoke multiple pods in a day, spiking nicotine addiction that is difficult to stop and can lead to smoking traditional cigarettes. Many teens also vape THC.
Beyond nicotine, e-cigarette "juices," or liquids, and their vapors contain a host of harmful and unregulated chemicals, including diacetyl, formaldehyde, heavy metals, oils, and volatile organic compounds that can cause permanent lung damage and cancer. Furthermore, the lungs are not inherently equipped to inhale vaporized liquids.
While it is illegal to sell smoking products, including e-cigarettes and vaping devices, to minors under the age of 21 in New Jersey, it is not illegal for youth under 21 to possess them, which is why parental education and a zero-tolerance for youth e-cigarette use is a necessary component in battling the youth vaping epidemic.
For more information on the dangerous realities of vaping, teens can visit the U.S. Surgeon General's website "Know the Risks: E-Cigarettes and Young People" at https://e-cigarettes.surgeongeneral.gov/, as well as the interactive website "Behind the Haze" at  https://www.behindthehaze.com/.
For the critical parent education component necessary to help halt this epidemic and its potential for permanent harm to youth, parents can visit Partnership for Drug-Free Kids' "How to Talk to Your Kids About Vaping" (https://drugfree.org/article/how-to-talk-with-your-kids-about-vaping/). Their website also reports the latest news on e-cigarettes and vaping (https://drugfree.org/learn/drug-and-alcohol-news-tag/e-cigarettes-and-vaping/).
Smokefree.gov (https://teen.smokefree.gov/) provides resources for targeted audiences, including teens, on how to quit using electronic and traditional cigarettes.
RWJBarnabas Health Institute for Prevention and Recovery (https://www.rwjbh.org/treatment-care/mental-health-and-behavioral-health/mental-health-services/institute-for-prevention-and-recovery/programs/nicotine-and-tobacco-recovery-program/) offers a free nicotine and tobacco cessation program for people of all ages to help with quitting electronic and traditional cigarette use.
---
Is Youth Substance Use Really Influenced by
Parenting, Social Status & Environment?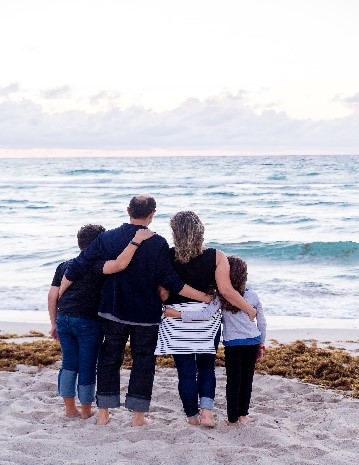 "Does Socioeconomic Advantage Lessen the Risk of Adolescent Substance Use?" examines the influence parenting, socioeconomic status, and home and school environments have on adolescent substance use (socioeconomic status measures sociological/economic position—or class standing—based on education, income, and occupation).
The information in the article comes from new and on-going studies that shed light on how environmental risk/protective factors play a part in youth alcohol, drug, and tobacco use.
The studies presented in the article found…
Excessive drinking by adolescents is associated with upper-middle-class families and parents who have college degrees and higher incomes
Youth marijuana use is more closely associated with its acceptance in the school environment, rather than education or income
Youth smoking is associated with socioeconomic disadvantage and less parental education
Teen drug/alcohol use is highly predictive of adulthood problems like substance use disorders and is not necessarily outgrown
Parental "zero tolerance" rules, open communication, and involvement play key roles in lessening or delaying adolescent substance use risk
"Harm-reducing" parental rules aimed at only limiting excessive drinking yielded 150% higher youth alcohol consumption than "zero tolerance" parental rules
An Arizona State University study that followed two groups of students from affluent northeastern suburbs for 10 years (high school to adulthood) identified concerning rates of later substance use in the population who used drugs and alcohol during adolescence. Little evidence was found to indicate that the subjects matured out of substance use.
This same study revealed a rate of non-medical use of prescription stimulants double that of national norms, presented the likelihood of substance use disorder diagnoses that were two to three times above the national average, and showed strict parental rules against substance use delivered in a supportive, nurturing household were a strong protective factor against underage drinking and marijuana use.
Another study based on national adolescent-to-adult health data indicated school-age marijuana use as a significant predictor of use 14 years later. Young adults with more-educated parents were more likely to have used marijuana recently than those with less-educated parents.
While no group is immune from substance use or substance use disorders, different youth are at risk for different reasons, such as higher availability in disadvantaged environments and achievement and popularity pressures coupled with more disposable income in wealthier suburban areas. Affluent parents may also worry less about substance use because they see their children as committed to achieving success— and as youth who would never engage in substance use.
 "Does Socioeconomic Advantage lessen the Risk of Adolescent Substance Use?" can be read in detail at https://www.hazeldenbettyford.org/education/bcr/addiction-research/socioeconomic-advantage-edt-818.
---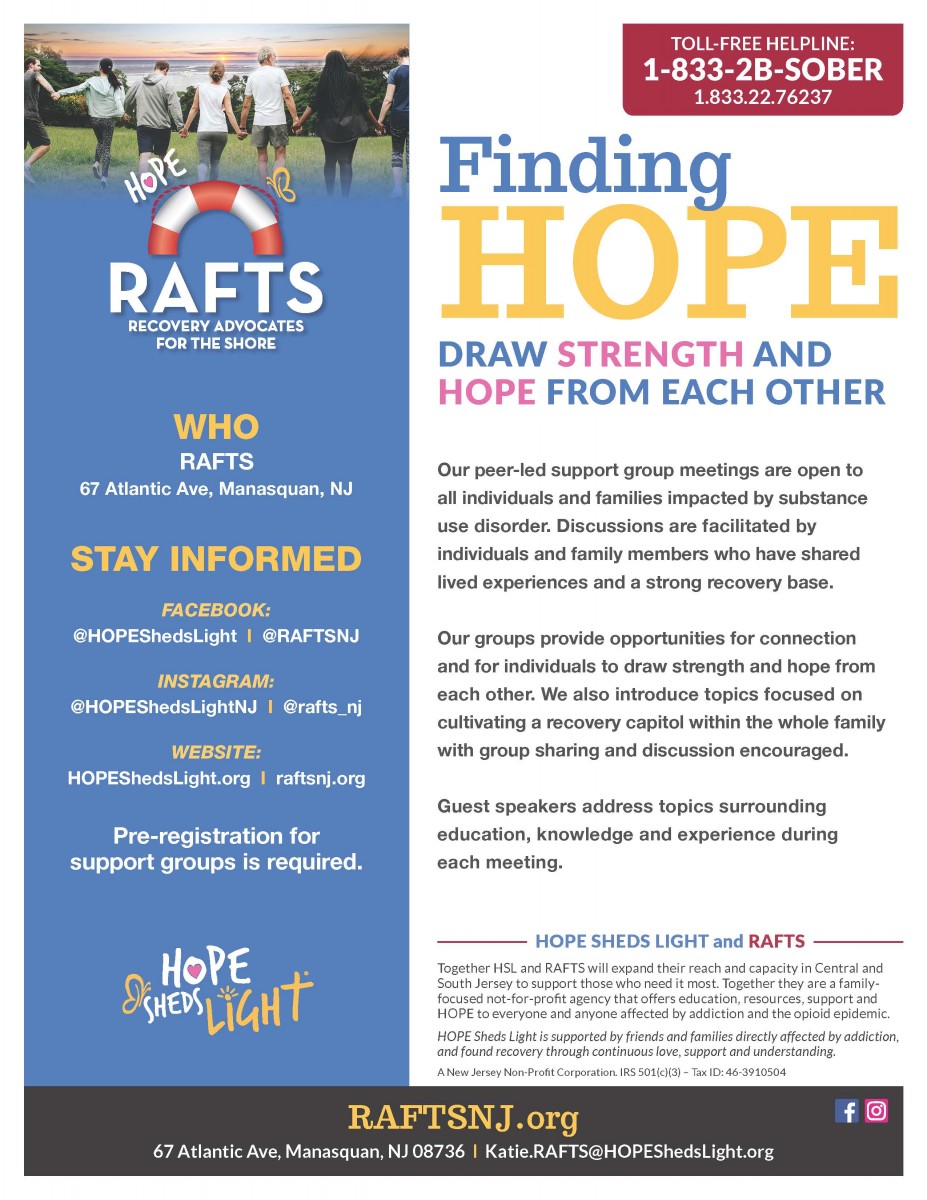 ---
The Neptune Township Municipal Alliance to Prevent Alcoholism & Drug Abuse is working on a new 5-year plan to incorporate community–wide strategies to combat substance abuse. Join us in the cause to build a healthier, safer community—your ideas and support are welcome & needed.
---
---
Municipal Alliance
Dawn Thompson, Alliance Coordinator
dthompson@neptunetownship.org
732-869-1202