Neptune Township CRS Coordinator
Don Clare, CFM. 
Assistant Director of Code and Construction
Electrical Subcode – Neptune Township CRS Coordinator
Ph. 732-988-5200 Ext 263
Email: dclare@neptunetownship.org
---
Helpful Information 
Links coming soon!
Flood Warning Systems
Flood Hazard and Evacuation Maps
Flood Safety Precautions
Shelter Locations (including Special-Needs Shelters)
NJ Coastal Coalition
Important Topics
Links coming soon!
Know your flood hazard
Insure Your Property from flood hazard
Protect People from the hazard
Protect your property from the hazard
Build Responsibly
Protect natual floodplain functions
Protection and assistance readily available for your community
Hurrican and severe storm preparedness
Don't wait until it's too late
Funding is available for your home repairs
---
FEMA Flood Insurance RISK 2.0
Risk Rating 2.0: Equity in Action 
Risk Rating 2.0: State Profiles
Risk Rating 2.0: Projected Premium changes by Zip Code
---
Floodplain Development Permit
CLICK HERE
---
Please Click above box for more information! 
---


"PUBLIC-PRIVATE PARTNERSHIP AIMS TO SHORE UP ERODED SECTION OF NEPTUNE'S SHARK RIVER ISLAND"

CLICK HERE to read the complete article
 
---
Six Ways to Protect Your Home From Flooding
---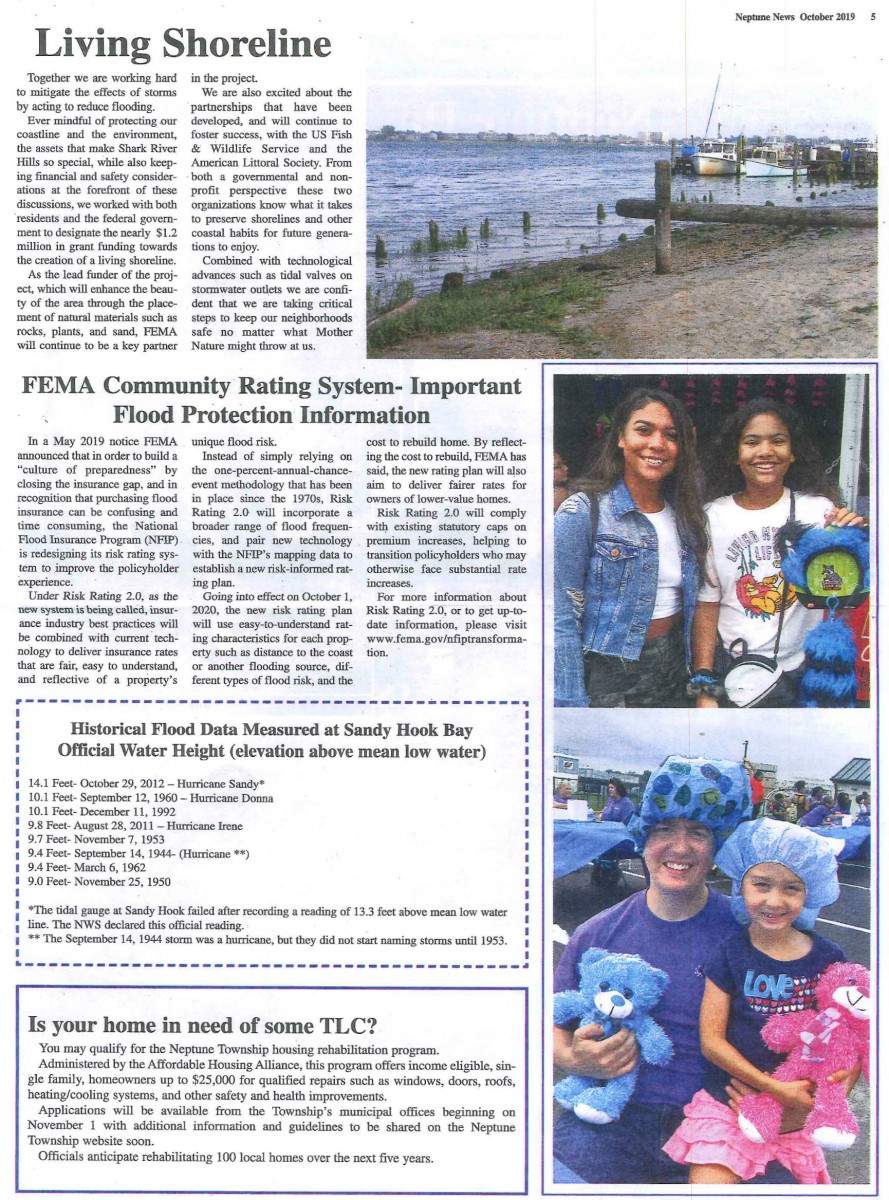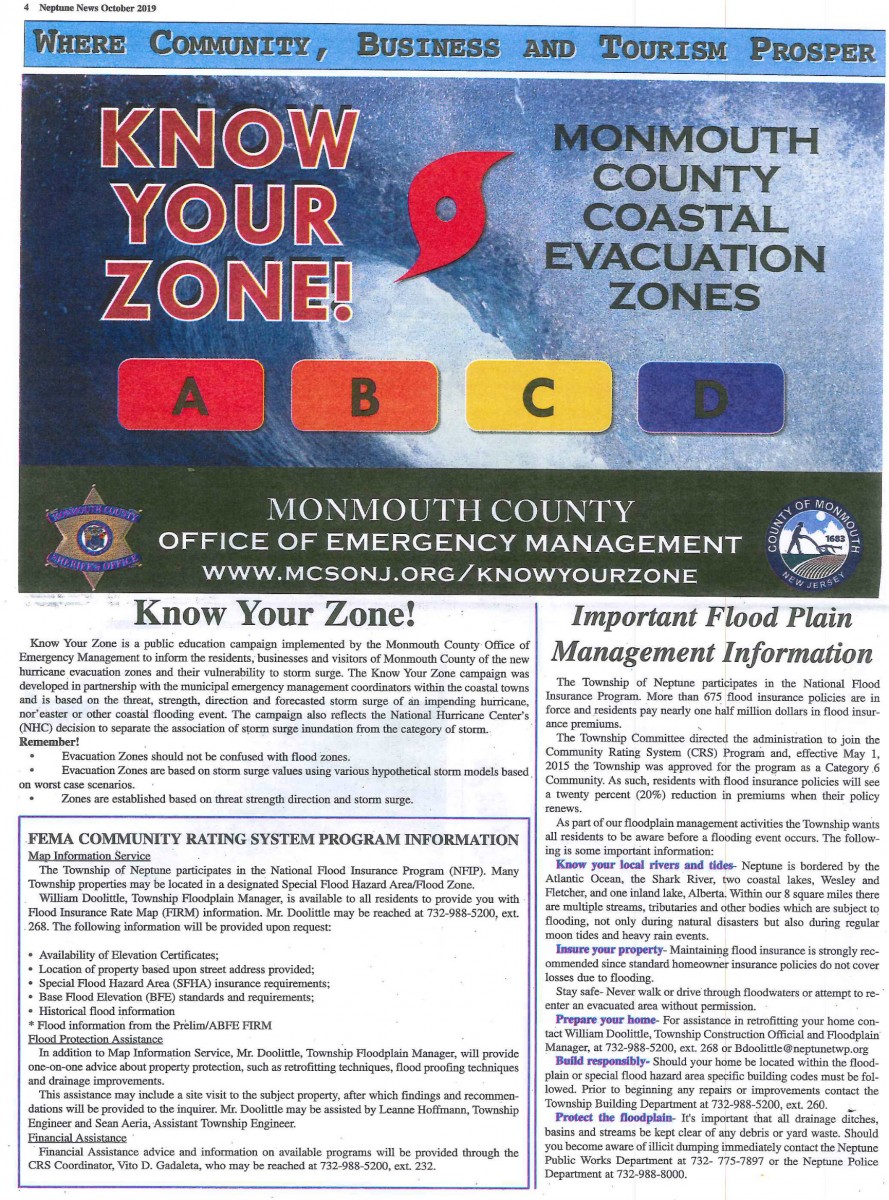 Homeowners in RREM and LMI Program
May Be Eligible for Additional Funding
 
Outreach Sessions about Supplemental Fund Will Be Held This Month
 
The New Jersey Department of Community Affairs, Sandy Recovery Division will hold outreach sessions about additional funding for homeowners still rebuilding in the RREM Program and the LMI Program throughout the month of March in communities hard hit by Superstorm Sandy. The schedule is as follows:
 
6 p.m. to 8 p.m. on Wednesday, March 13 at the All Wars Memorial Building, 1510 Adriatic Avenue, Atlantic City, NJ, 08401
6 p.m. to 8 p.m. on Thursday, March 14 at the Brick Township Municipal Building, 401 Chambers Bridge Road, Brick, NJ, 08723
6 p.m. to 8 p.m. on Tuesday, March 19 at the Union Beach Borough Hall, 650 Poole Avenue, Union Beach, NJ, 07735
6 p.m. to 8 p.m. on Thursday, March 21 at the Little Ferry Borough Hall, 215-217 Liberty Street, Little Ferry, NJ, 07643
10 a.m. to 1 p.m. on Saturday, March 30 at the Toms River Municipal Building, 33 Washington Street, Toms River, NJ 08753
The outreach sessions come in the wake of the federal government's approval of the State's plan to use $50 million in federal disaster recovery money to create a Supplemental Fund exclusively for homeowners in the RREM Program and the LMI Program who have a program-calculated unmet need and who have yet to complete construction.
Awards from the Supplemental Fund will be uncapped and will be calculated based on the remaining program-eligible work needed to finish the project, taking into account other funding sources such as flood insurance and Small Business Administration (SBA) loans. Homeowners who accept a Supplemental Fund award will be required to live in the home for five years following construction completion.
 
Applications for the Supplemental Fund will be available within several months.
The outreach sessions will include a presentation about the Supplemental Fund followed by a Q&A where homeowners can get their questions answered about the funding and eligibility.
 
People who are unable to attend one of the outreach sessions may contact DCA's Sandy Constituent Services at (609) 292-3750 or via email 
atsandy.recovery@dca.nj.gov
  with their questions.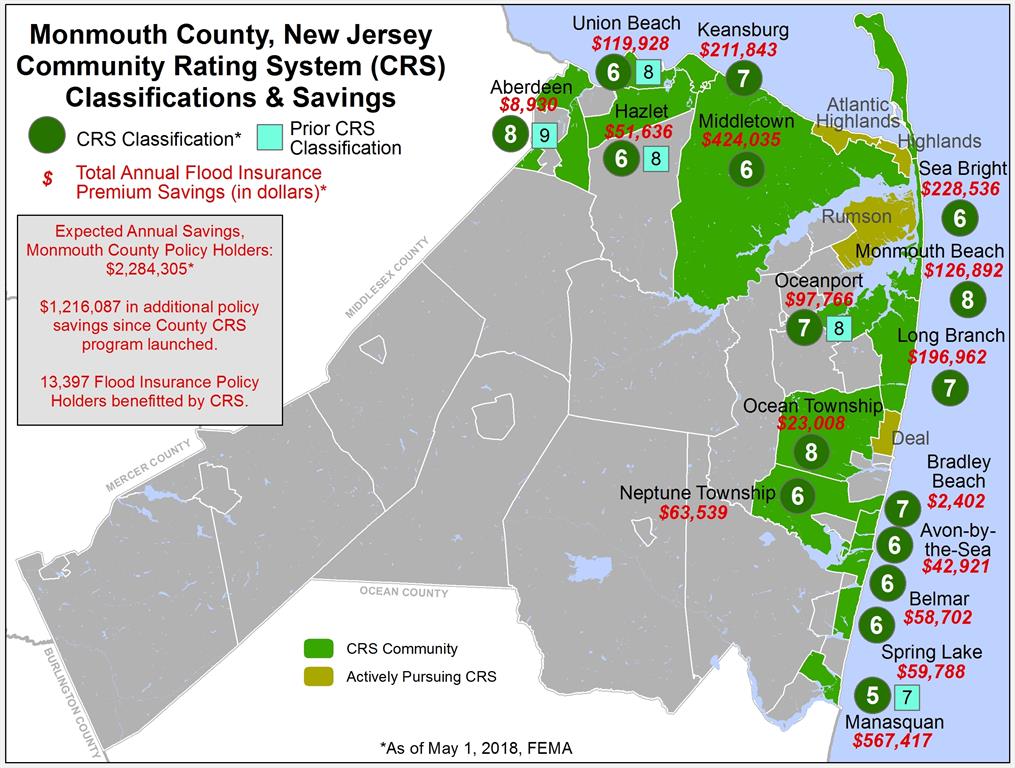 Click Here for more information on the Community Rating System.
Township of Neptune
"Getting to Resilience"
Recommendations Report
CLICK HERE to review this report.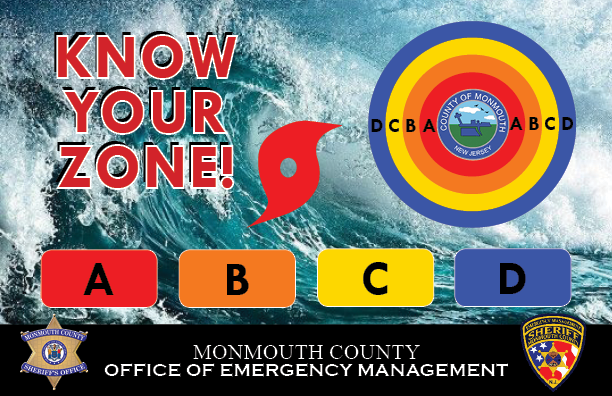 Please CLICK HERE to learn which zone you are in, in the event of a storm. 
---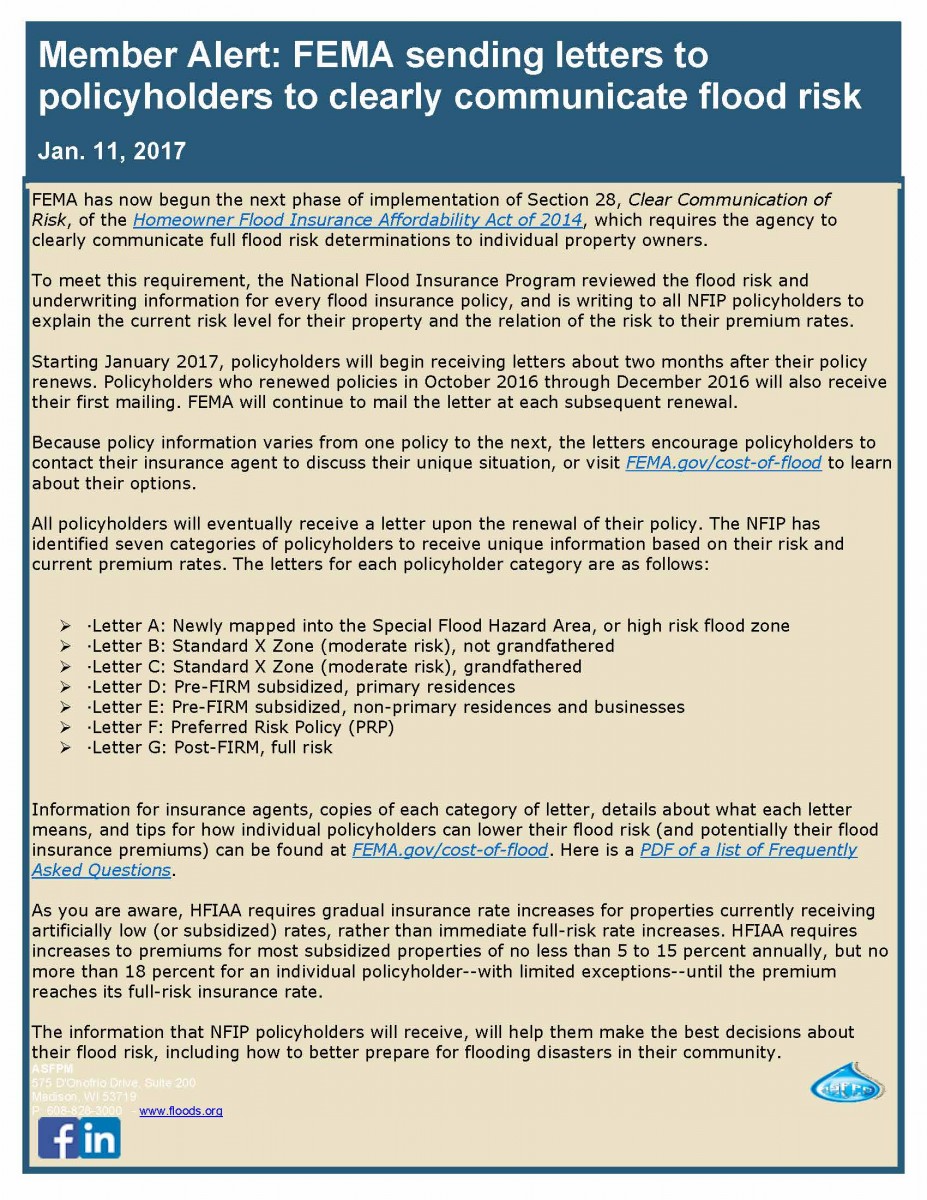 ---
Historical Flood Data - Measured at Sandy Hook Bay
Official Water Height (elevation above mean low water)
14.1 Feet - October 29, 2012 - Hurricane Sandy*
10.1 Feet - September 12, 1960 - Hurricane Donna
10.1 Feet - December 11, 1992 
9.8 Feet - August 28, 2011 - Hurricane Irene
9.7 Feet - November 7, 1953
9.4 Feet - September 14, 1944 - (Hurricane**)
9.4 Feet - March 6, 1962
9.0 Feet - November 25, 1950

 
* The tidal gauge at Sandy Hook failed after recording a reading of 13.3 feet above mean low water.  The NWS declared this official reading. 
** The September 14, 1944 storm was a hurricane, but they did not start naming storms until 1953.
---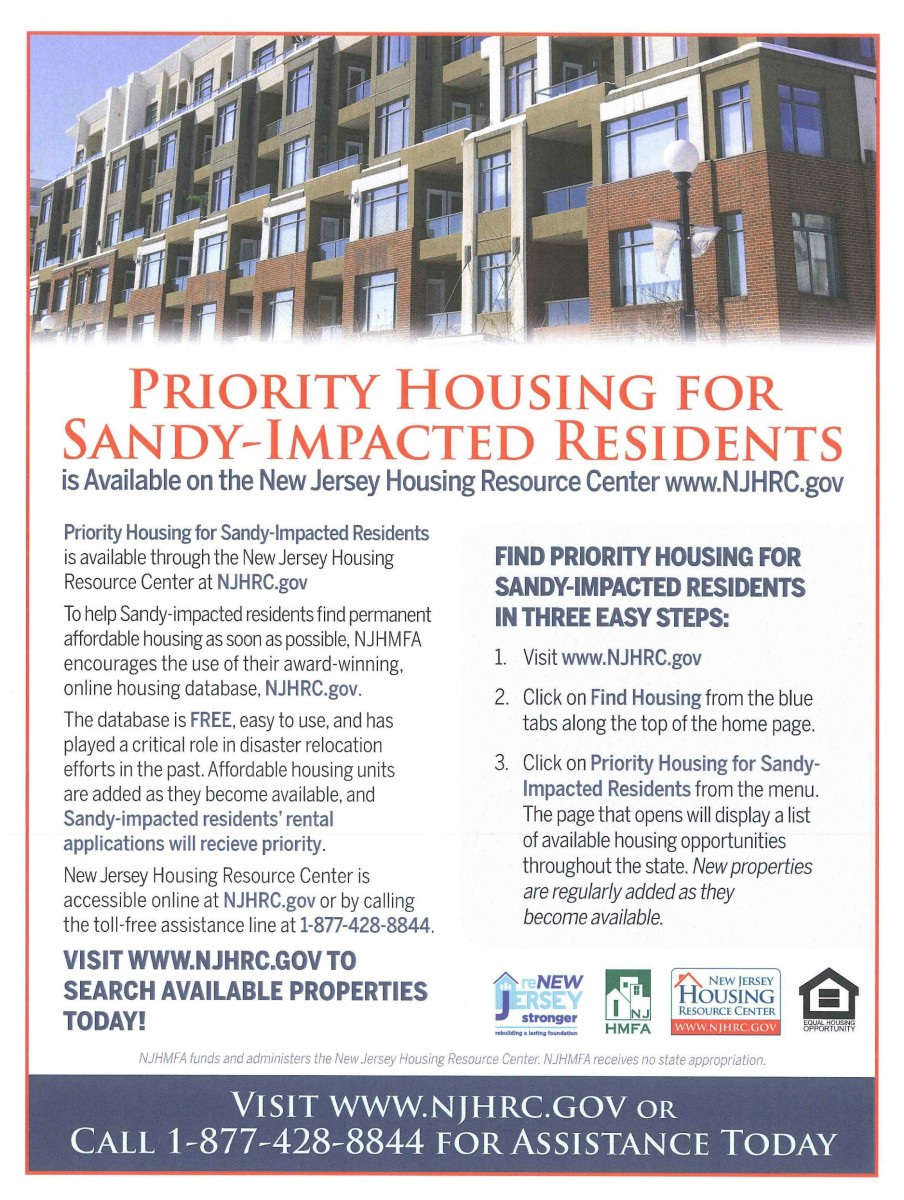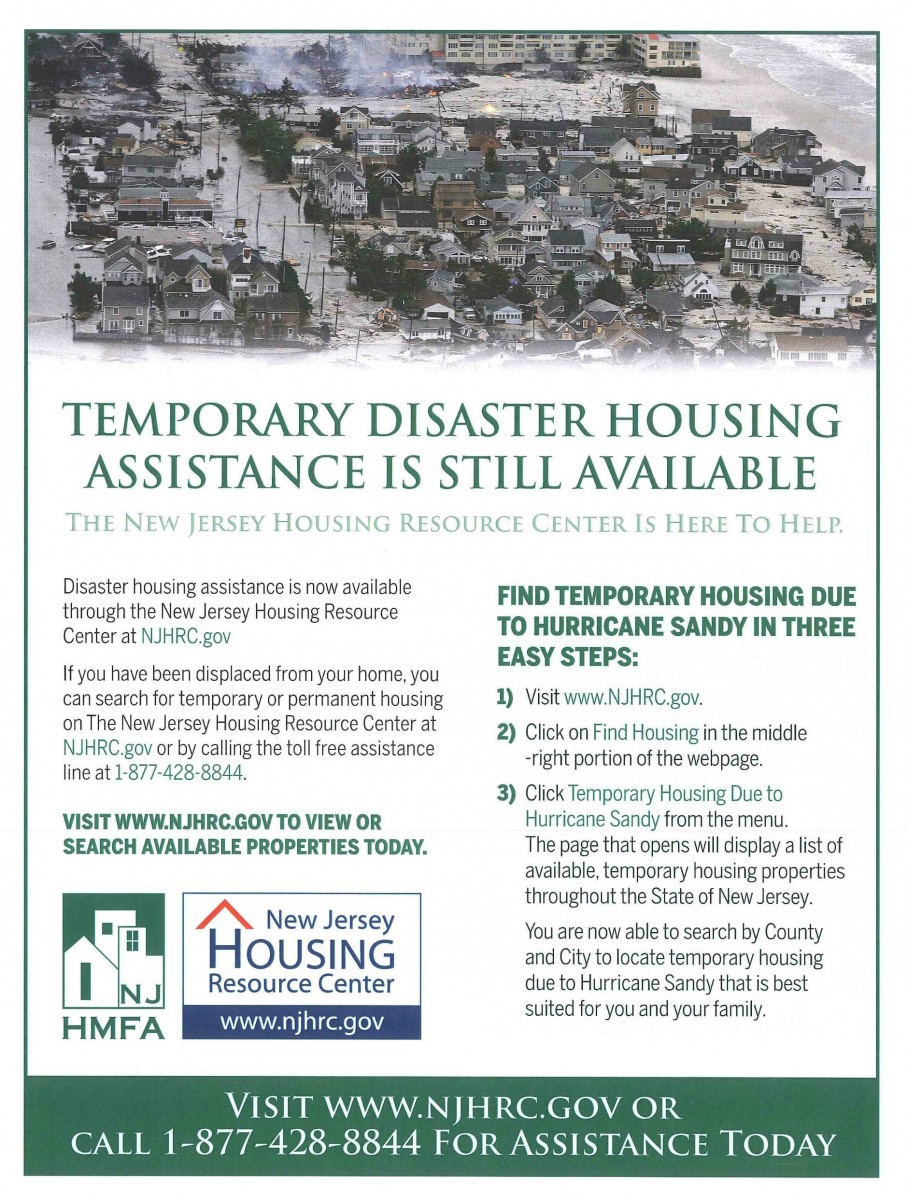 ---
---
NFIP Transformation Task Force Update 
Dated: July 2, 2015
---
NATIONAL FLOOD INSURANCE PROGRAM AND IMPLEMENTATION OF THE  HOMEOWNER FLOOD INSURANCE AFFORDABILTY ACT AND THE BIGGERT-WATERS FLOOD INSURANCE REFORM ACT

October 1, 2014

Dear Intergovernmental Partners:

Today, the Federal Emergency Management Agency's (FEMA) National Flood Insurance Program (NFIP) is providing information on additional steps underway to implement changes to the program as a result of the 2012 and 2014 flood insurance reform legislation.  The guidance on the changes being implemented will bring rates into compliance with the new laws beginning April 1, 2015.

The NFIP provides the opportunity for homeowners, renters, and business to purchase flood insurance for protection from flooding. FEMA also works with communities to update and develop flood maps to inform the community of their current flood risk. These actions allow community members to take important steps to prepare for flooding risk in their area.

On March 21, 2014, President Obama signed the Homeowner Flood Insurance Affordability Act (HFIAA) of 2014 into law. This law repeals and amends certain provisions of the Biggert-Waters Flood Insurance Reform Act of 2012 (Biggert-Waters) and the National Flood Insurance Act of 1968.

The new law slows some flood insurance rate increases and offers relief to some policyholders who experienced steep flood insurance premium increases in 2013 and early 2014.

The NFIP is in the process of implementing congressionally mandated reforms with the Program's private sector, Write Your Own insurance company partners. Specifically, the flood insurance rate structure and business practices are being further revised to implement certain provisions of the legislations. Changes taking place in April 2015 include: annual rate increases for policies to support the gradual move to full risk rates; an increase in the Reserve Fund Assessment; implementation of an annual surcharge on all new and renewed policies; an additional deductible option; a one year preferred policy for policyholders who took part in a new flood map or revision; and an increase in the Federal Policy Fee.

The attached Backgrounder provides detailed information on the program changes taking place in April 1, 2015. Additional information can be found in the latest Bulletins provided to the NFIP's private sector Write Your Own insurance partners at www.NFIPiService.com.

If you have any questions, please contact FEMA's Intergovernmental Affairs Division at (202) 646-3444 or at FEMA-IGA@fema.dhs.gov.

FEMA's mission is to support our citizens and first responders to ensure that as a nation we work together to build, sustain, and improve our capability to prepare for, protect against, respond to, recover from, and
mitigate all hazards.
Click here for file
---
Review, Update Your Insurance Policies
EATONTOWN, N.J. - September is National Preparedness Month, and the latter half of the year is an ideal time for people to review their insurance policies. Understanding the details of what specific policies cover and what the policyholder is responsible for after a disaster is important as both clients' needs and insurance companies' rules change.
Insurers' decisions and legislative changes have the biggest effect on changes in policies. Consumers should make themselves aware of possible changes in these areas and know what to look for while reviewing their policies.
What's Covered
The first check is the most obvious: the actual coverage. Policyholders should look at the specifics of which property is covered and the type of damage that is covered. Property owners should know that floods are not covered by standard insurance policies and that separate flood insurance is available. Flood insurance is required for homes and buildings located in federally designated high risk areas with federally backed mortgages, referred to as Special Flood Hazard Areas (SFHAs). Residents of communities that participate in the National Flood Insurance Program (NFIP) are automatically eligible to buy flood insurance. According to   www.floodsmart.gov, mortgage lenders can also require property owners in moderate to low-risk areas to purchase flood insurance.
There are two types of flood insurance coverage: Building Property and Personal Property. Building Property covers the structure, electrical, plumbing, and heating and air conditioning systems. Personal Property, which is purchased separately, covers furniture, portable kitchen appliances, food freezers, laundry equipment, and service vehicles such as tractors.
What's Not Covered
Policy exclusions describe coverage limits or how coverage can be purchased separately, if possible. Property owners should know that not only is flood insurance separate from property (homeowners) insurance, but that standard policies may not cover personal items damaged by flooding. In these cases, additional contents insurance can be purchased as an add-on at an additional cost. Some policies may include coverage, but set coverage limits that will pay only a percentage of the entire loss or a specific dollar amount.
The Federal Emergency Management Agency's Standard Flood Insurance Program (SFIP) "only covers direct physical loss to structures by flooding," FEMA officials said. The SFIP has very specific definitions of what a flood is and what it considers flood damage. "Earth movement" caused by flooding, such as a landslide, sinkholes and destabilization of land, is not covered by SFIP.
Structures that are elevated must be built at least to the minimum Base Flood Elevation (BFE) standards as determined by the Flood Insurance Rate Maps (FIRMs). There may be coverage limitations regarding personal property in areas below the lowest elevated floor of an elevated building.
Cost Impact of Biggert-Waters
The Biggert-Waters Flood Insurance Reform Act of 2012 extends and reforms the NFIP for five years by adjusting rate subsidies and premium rates. Approximately 20 percent of NFIP policies pay subsidized premiums, and the 5 percent of those policyholders with subsidized policies for non-primary residences and businesses will see a 25 percent annual increase immediately. A Reserve Fund assessment charge will be added to the 80 percent of policies that pay full-risk premiums. Un-elevated properties constructed in a SFHA before a community adopted its initial FIRMs will be affected most by rate changes.
In March 2014, the Consolidated Appropriations Act of 2014 and the Homeowner Flood Insurance Affordability Act (HFIAA) of 2014 were signed into law, lowering rate increases on some policies, preventing rate increases on others, and delaying the implementation of Section 207 of Biggert-Waters, which was to ensure that certain properties' flood insurance rates reflected their full risk after a mapping change or update. HFIAA also repeals a portion of Biggert-Waters that eliminatedgrandfathering properties into lower risk classes. Many of the changes have not yet been implemented because the necessary new programs and procedures have not been established.
Other Conditions
The General Conditions section informs the consumer and the insurer of their responsibilities, including fraud, policy cancellation, subrogation (in this case, the insurer's right to claim damages caused by a third party) and payment plans. Policies also have a section that offers guidance on the steps to take when damage or loss occurs. It includes notifying the insurer as soon as practically possible, notifying the police (if appropriate or necessary) and taking steps to protect property from further damage.
"FEMA's top priority is to provide assistance to those in need as quickly as possible, while also meeting our requirements under the law," FEMA press secretary Dan Watson said. "To do this, FEMA works with its private sector, write-your-own insurance (WYO) company partners who sell flood insurance under their own names and are responsible for the adjustment of their policy holders' claims."
Policyholders should speak with their insurance agent or representative if they have any questions about coverage.
For further information and direction, call the NFIP Call Center at 1-800-427-4661 or the NFIP Referral Center at 1-888-379-9531 . Comprehensive information about NFIP, Biggert-Waters, HFIAA and flood insurance in general can be found at the official NFIP website, www.floodsmart.gov
---
How to Pump Out a Flooded Basement
Click on the link above for directions on how to  SAFELY pump out a flooded basement
---
---
---
---
Click on the icon below for the County's Hazard Mitigation Plan Updates
---
FEMA recently released this fact sheet on the Homeowners Flood Insurance Affordability Act. (June 25, 2014)
Click here for the fact sheet (two pages). 
---
Most of which is found on this page can be found in one document,  Public Outreach Program. Click on the title for the document.
Here are additional features of the program:
---
FEMA has released the new Preliminary Maps which are the next step to generating new FIRM (Flood Insurance Rate Maps).  These maps can be utilized with the link tools provided for the general public to find their current Flood Elevation.  This is an important tool to find your current flood zone and elevation.  For flood elevations, these maps are the next step from the ABFE maps for flood insurance purposes.  The Preliminary Maps are the basis for what the insurance companies will base your flood insurance on.  Please be advised that these maps are "Preliminary" and are just being introduced.  The public is encouraged to review them and the flood elevations with respect to your property
For Township purposes and elevating of structures the current ordinance relies on the ABFE maps and an elevation of 12 which includes the necessary freeboard.  This will be in place until the new FIRM maps have been through comment period and review and are adopted as the official FIRM maps.  At that time the Township will evaluate how this compares to the ABFE's and the adopted elevation of 12 to the new FIRM maps and see if any revisions are necessary to the current ordinance.
The following links are very helpful for individuals to locate their property
http://www.fema.gov/view-your-communitys-preliminary-flood-hazard-data-0
Direct link to the Preliminary FIS report, FIRMS and Firm databases is available at
http://www.fema.gov/preliminaryfloodhazarddata
Direct link to the Preliminary FIS report, FIRMS and Firm databases is available at
Everyone is encouraged to still use the Region 2 website which is also still being updated and active
FEMA has stated that overall the Flood Risk in Monmouth County has increased.
---
---
Announcing the release of the Hurricane Sandy Mitigation Assessment Team Report!
The Federal Emergency Management Agency (FEMA) Building Science Branch would like to announce the release of FEMA P-942, Mitigation Assessment Team Report: Hurricane Sandy in New Jersey and New York.  The Report documents observations made during field visits conducted by the Mitigation Assessment Team (MAT), specifically deployed to evaluate key building damage caused by Hurricane Sandy.  It goes on to present the conclusions and recommendations derived from the field observations with regards to key engineering concepts, codes and standards, mitigation measures and considerations that can be used in the planning and recovery process to help minimize future damage to structures and their related utility systems.
The recommendations for disaster-resistant practices in hurricane-prone regions presented in the Report are applicable to planners; decision makers; designers; contractors; building officials; Federal, State, and local government officials; building owners and operators; emergency managers; and homeowners.
Observations, conclusions, and recommendations related to the following topics are included in the Report:
Building Codes and Standards
Flood Protective Measures
Residential Construction
Critical Facilities and Key Assets
Mechanical, Electrical, and Plumbing Systems
FEMA P-942 can now be accessed and downloaded for free from the FEMA Library at http://www.fema.gov/media-library/assets/documents/85922 . 
Should you have any questions or comments related to the Hurricane Sandy MAT Report, please contact John Ingargiola of the Building Science Branch (john.ingargiola@fema.dhs.gov) or the Building Science Helpline (866)- 927-2104 orFEMA-Buildingsciencehelp@fema.dhs.gov).
Please visit the Building Science Branch homepage for additional multi-hazard mitigation information and resources. Be sure to also visit Hurricane Sandy – Building Science Activities & Resources. 
---
Like other natural disasters, there are safety 
***NEW*** View Property Information and Flood Elevations.

**NOTE** All flood elevations and zones to be confirmed by the Floodplain Manager. 
All formal Zones and BFE's to be determined from the official FEMA Flood Map Service Center website.