JOB OPPORTUNITY 
Cannabis Advisor
Please CLICK HERE for more information
November 30, 2021
 

New Jersey launches $180 million in grant programs for small businesses to upgrade HVAC, plumbing fixtures, and appliances
About the Programs
Are your HVAC, plumbing fixtures, and appliances outdated and inefficient? Do you want to improve energy efficiency, water conservation, and public health and safety in your business? New Jersey's School and Small Business Energy Efficiency Program can help you repair or replace your HVAC system, plumbing fixtures, and appliances to meet efficiency and health standards. 
Grant funding can cover up to 75% of the total cost for projects. Find out more on our website.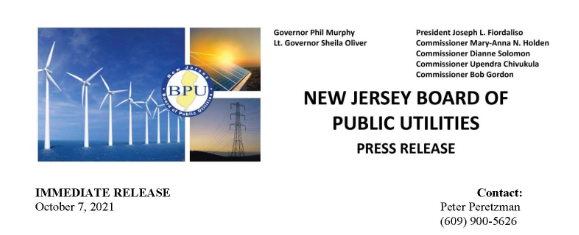 NJBPU Launches Grant Program to Improve Energy Efficiency and Water Conservation in Schools and Smalls Businesses
Trenton, NJ – The New Jersey Board of Public Utilities (NJBPU) today launched the Schools and Small Business Energy Efficiency Stimulus (SSB) Program, a $180 million grant program for New Jersey schools and small businesses to repair or replace HVAC systems, plumbing fixtures, and appliances to meet efficiency and health standards. The federally funded program will dedicate at least $135 million of its funding to schools and small businesses within underserved communities as part of the Murphy Administration's commitment to equity and environmental justice.
"Through the Schools and Small Business grant program, we are putting the health of our children first and ensuring small businesses have access to the tools they need to cut energy and water costs and improve indoor air quality in their establishments," said NJBPU President Joseph L. Fiordaliso. "As we rise to the challenges of climate change and the ongoing pandemic, these grants will enable the direct benefits of cleaner facilities, as well as the economic boost in local labor needed to complete these projects, especially in overburdened communities."
In launching the SSB programs, NJBPU delivers on legislation signed in August by Governor Murphy and sponsored by Senate President Steve Sweeney, Senator Troy Singleton, and Assemblymembers Pamela Lampitt, Wayne DeAngelo, and Thomas Giblin.
"This investment is a critical piece of our recovery from the coronavirus pandemic, providing economic incentives to update HVAC systems to current health and safety standards while creating thousands of job opportunities across New Jersey," said Senate President Steve Sweeney. "School districts and small businesses have an opportunity to reduce operating costs through energy efficiency while ensuring cleaner air inside their classrooms and facilities."
"As schools and small businesses work to reopen, these energy efficiency grants will provide much needed funding to replace antiquated ventilation and plumbing systems that are not only inefficient and costly, but unsafe as we continue to confront COVID-19," said Assemblywoman Pamela Lampitt. "The improvements funded by this program will benefit our students and the residents of New Jersey for years to come."
The SSB funding is subdivided into two programs: the School and Small Business Ventilation and Energy Efficiency Verification and Repair (SSB-VEEVR) Program; and the School and Small Business Noncompliant Plumbing Fixture and Appliance (SSB-NPFA) Program.
The SSB funding will cover 75 percent of the total cost for projects initiated under these programs, while the other 25 percent must come from outside sources. The programs include a cap of $5 million per school district and $500,000 per small business to ensure more entities are able to participate.
Outdated HVAC and plumbing systems are less efficient and more costly to operate than modern equipment, and often fail to meet current health and safety standards. In response to climate change and the COVID-19 pandemic, the SSB program aims to facilitate the repair and replacement of these systems in order to reduce wasted energy and improve public health and safety, including a requirement that sinks, toilets, and urinals be touchless to help reduce the spread of germs.
NJBPU will begin approving applications on December 1, 2021. Further details on eligibility and the application process are included in the SSB-VEEVR Program Guide and the SSB-NPFA Program Guide.
About the New Jersey Board of Public Utilities (NJBPU)
NJBPU is a state agency and regulatory authority mandated to ensure safe, adequate and proper utility services at reasonable rates for New Jersey customers. Critical services regulated by NJBPU include natural gas, electricity, water, wastewater, telecommunications and cable television. The Board has general oversight and responsibility for monitoring utility service, responding to consumer complaints, and investigating utility accidents. To find out more about NJBPU, visit our website at www.nj.gov/bpu.
About New Jersey's Clean Energy Program (NJCEP)
NJCEP, established on January 22, 2003, in accordance with the Electric Discount and Energy Competition Act (EDECA), provides financial and other incentives to the State's residential customers, businesses and schools that install high-efficiency or renewable energy technologies, thereby reducing energy usage, lowering customers' energy bills and reducing environmental impacts. The program is authorized and overseen by the New Jersey Board of Public Utilities (NJBPU), and its website is www.NJCleanEnergy.com.
---
IMPORTANT BUSINESS LINKS FOR NEPTUNE BUSINESSES
With businesses reopening, the Neptune Township Committee and the Neptune Economic Development Corporation have gathered information that may be of assistance to your business in this new post Covid world. If you have any questions or need help please contact Alexis Perez.
It is not too late to apply for the PPP program. The Government has extended the deadline to apply for the Payroll Protection Program PPP, but you need to act fast as this new program closes August 8. More information here - https://www.sba.gov/funding-programs/loans/coronavirus-relief-options/paycheck-protection-program#section-header-0
The rules for what you can use the PPP program for has also changed. Here is an update from Intuit - https://quickbooks.intuit.com/r/coronavirus/ppp-flexibility-act/?cid=DR_em_47383_001_Text4_US_QBO
Intuit has also created a calculator to help companies maximize their benefits under the CARES act. See more here - https://aidassist.intuit.com/app/home?cid=DR_em_47383_001_Text6_US_QBO#/home
The State of NJ has just announced a $6 million grant program to help small businesses with lease payments. This program opens August 10 and will close quickly. More information here. https://mailchi.mp/njld11/governor-murphy-announces-small-business-relief-grant?e=131e34f4a1
Business strategy firm McKinsey has published a number of articles on how to operate in the new post Covid world. This is a very comprehensive view to what it takes open safely. 
https://www.mckinsey.com/about-us/covid-response-center/response-tools/for-governments/reopening-workplaces-amid-covid-19?cid=other-eml-alt-mip-mck&hlkid=a37619bfedcf40bdb811cda43369eda3&hctky=1535650&hdpid=947604f2-f97c-49a2-976f-65679fd23cb9
We know that these are challenging times for business. Let us know how we can help.
---
FOR IMMEDIATE RELEASE:
June 23, 2020
Freeholders to allocate $10 million of CARES Act
funding to County small business community
FREEHOLD, NJ – On behalf of the Monmouth County Board of Chosen Freeholders, Freeholder Director Thomas A. Arnone is announcing that the County will allocate $10 million from the CARES (Coronavirus Aid, Relief and Economic Security) Act to
supplement the Community Development Block Grant - Coronavirus (CDBG-CV).
The funding will be utilized to provide grants of up to $10,000 to businesses with up to 50 employees.
"While some other counties have chosen to utilize the New Jersey Economic Development Authority, Monmouth County will be administering these grants directly because no one knows our small businesses like we do," said Freeholder Director Arnone. "I have been in constant contact with small business owners and chambers of commerce throughout this pandemic and will continue to work with them to assist in any way I can."
The CDBG-CV was received through the County's Office of Community Development in the amount of $1.59 million.
"My fellow Freeholders and I realized that the $1.59 million from the Community Development Block Grant for COVID would not provide sufficient funds to reach all small businesses in the County due to restrictions and guidelines put in place by the federal government and HUD," said Freeholder Director Arnone, liaison to the Division of Economic Development. "The Board unanimously passed the resolution to share supplemental funds from the CARES Act to the Monmouth County small businesses and nonprofits to provide them with relief during this pandemic."
The U.S. Department of the Treasury instituted the CARES Act to provide fast and direct economic assistance for American workers, families and small businesses. The goal of this economic relief package is to preserve jobs and lessen the economic impacts of the health pandemic.
Congress provided $5 billion in CARES Act funding for the CDBG-CV, a program developed by the U.S. Department of Housing and Urban Development (HUD). The second round of CARES Act money for CDBG-CV, amounting $1 billion, will target public health, coronavirus as well as housing and economic disruption needs. The Grant was distributed to state and local governments and the County is awaiting further direction about properly allocating funds from HUD.
"Throughout this pandemic in Monmouth County, countless residents have filed for unemployment and small businesses have shut their doors," said Freeholder Director Arnone. "These grant dollars will help support and recover our County economy as we continue to curb COVID and in the United States."
More information on the CDBG-CV will be made available in the coming weeks on www.visitmonmouth.com.
---
NJEDA Expands Micro Business Loan Program
CLICK HERE for more information 
Expanded program provides loans up to $50,000 to businesses with ten or fewer employees

TRENTON, N.J. (June 9, 2020) – The New Jersey Economic Development Authority (NJEDA) today announced an expansion of its Micro Business Loan Program to assist New Jersey small businesses, many of which are facing business interruption as a result of COVID-19. The expanded program will provide financing up to $50,000 for micro businesses and nonprofits with ten or fewer employees and no greater than $1.5 million in annual revenues. More information about the enhanced program is available at www.njeda.com/microbusinessloan. 
 
"Micro businesses are a vital component of New Jersey's economy, providing unique services and employment opportunities, but because of their size, many of these businesses have had a particularly difficult time responding to the challenges COVID-19 poses," said NJEDA Chief Executive Officer Tim Sullivan. "The expanded program will ensure more businesses have access to the resources they need to survive the current crisis and return to full strength soon."
 
The NJEDA launched the Micro Business Loan Program in November 2019. The expanded program will provide financing up to $50,000 to businesses for inventory, equipment, and working capital. Loans will have a standard ten-year term. Interest rates will be set at 2 percent with no interest and no payment due for the first three years. Businesses that receive financing under the enhanced program and are still in operation 12 months after the closing date of the loan will have ten percent of the approved loan amount forgiven.
 
The expanded Micro Business Loan Program is open to for-profit businesses with a business location in New Jersey, as well as home-based businesses and not-for-profit organizations that have been in operation for at least two years. Startup businesses, defined under the program as business in operation between six months and one year, may also be eligible for the program, but will be required to provide a business plan and five-year projections at application. To ensure resources are available to the micro businesses that the program is designed to serve, eligibility will be limited to businesses that have annual revenues of no greater than $1.5 million in the most current fiscal year and no more than 10 full-time employees at the date of application, with no employee minimum, and a demonstrated ability to service the proposed debt..
 
In addition to meeting these eligibility requirements, the Chief Executive Officer, President, or owner(s) of the applicant business will be required to certify that the business will make its best effort not to furlough or lay off any individuals through the end of the declared emergency and public health emergency related to COVID-19. Companies that have already furloughed or laid off workers as a result of COVID-19 must make a best effort pledge to re-hire those same workers as soon as possible.
 
The NJEDA will capitalize the program with $10 million. Of the $10 million in total funding available, $3.5 million will be set aside to support eligible entities located in New Jersey Opportunity Zone-eligible census tracts.
 
The application for the expanded Micro Business Loan Program is currently in development, and is expected to be available soon. Recognizing the extraordinary economic circumstances that make this program necessary, the NJEDA will waive all fees for three months from the date the application is opened.
 
Comprehensive information about New Jersey's coronavirus response is available at https://cv.business.nj.gov.
 
 
To read Governor Murphy's full economic plan, please visit: https://nj.gov/economicplan
 
About the New Jersey Economic Development Authority
The New Jersey Economic Development Authority (NJEDA) serves as the State's principal agency for driving economic growth. The NJEDA is committed to making New Jersey a national model for inclusive and sustainable economic development by focusing on key strategies to help build strong and dynamic communities, create good jobs for New Jersey residents, and provide pathways to a stronger and fairer economy. Through partnerships with a diverse range of stakeholders, the NJEDA creates and implements initiatives to enhance the economic vitality and quality of life in the State and strengthen New Jersey's long-term economic competitiveness.
 
To learn more about NJEDA resources for businesses call NJEDA Customer Care at 609-858-6767 or visit https://www.njeda.com and follow @NewJerseyEDA on Facebook, Twitter, and LinkedIn.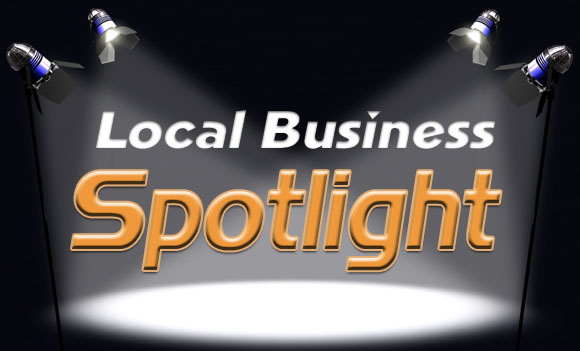 Indian Motorcycle of Monmouth

Earlier this year we welcomed Indian Motorcycle of Monmouth to the community of small businesses that call Neptune Township home. Headed by Ron Mitro, Jason Gamba and Kenny Schwartz, Indian Motorcycle of Monmouth offers customers and motorcycle enthusiasts a state of the art facility and a new, streamlined, customer-oriented sales and service process, making the purchase and maintenance of one of America's best known motorcycle brands straightforward.
Q. Why did you choose Neptune Township as the location for your business?
A. We originally came to Neptune because we knew the location would be phenomenal for us drawing customers from a 50 mile radius. With easy access from the Garden State Parkway and the New Jersey Turnpike, as well Routes 35 and 33, we knew our customer base would have no problem getting to us! Located just minutes from major Jersey Shore destinations such as Ocean Grove, Asbury Park and Belmar certainly factored in to our decision making as well.
Q. How was your experience working with Neptune Township in getting your business open?
A. Business owners typically cringe at the thought of having to work with local government, and there are no shortages of tales of added expense and complications when dealing with bureaucrats. We found exactly the opposite in Neptune Township. Local officials told us from our very first conversations that they wanted good businesses to come to Neptune Township, and they did everything in their power to help us become part of this community. From Mayor Brantley and Vito Gadaleta, Business Administrator, right through to the entire team in the Township offices, we were astounded by how supportive they all were. A 'can do' attitude became evident from day one and it is clear that they truly do care about making sure small businesses can prosper here. We couldn't have been treated better, and have already recommended Neptune Township to two other prospective business owners!
Q. What can residents and customers expect from Indian Motorcycle of Monmouth?
A. In the short time we have been open we have already become the number one Indian Motorcycle dealer in the State of New Jersey, and we know that's due in part to the warm welcome we've received since choosing Neptune Township. We look forward to growing to become a major part of this community, participating in local events, supporting efforts to make Neptune even better. From a customer perspective, we look forward to continuing to make the purchase of motorcycles and related equipment a better kind of experience. We take pride in our customer service, and treat everyone that comes through our doors the same way we were treated by Neptune Township.
We welcome all of our neighbors to come down and visit us, and maybe even ride home on a brand new, American made, Indian motorcycle!
---
CLICK HERE for the Facade Improvement Application and Procedures

"Designated Opportunity Zone" Information
Please CLICK HERE to be directed to the interactive map.
---
Transit Village Form Based Zone
---
Redevelopment Plans
High Tech Park

Amendments to High Tech Park
 
Route 35 and West Bangs Avenue
CLICK HERE
 to view the Zoning Map with Redevelopment Areas
Architectural Design Guidelines