Please see below for all of our current road work notices for Neptune Township.
Thank you!
Please be advised that milling on Neptune Blvd will begin tomorrow 8/20 and paving will begin on Wednesday 8/21.
 All traffic will be pushed to the northbound side of Neptune Blvd so that two way traffic can be maintained. 
Please plan for possible delays
---
NJ Transit will be closing the 11th Avenue Rail Road crossing on or about August 22nd and it will impassible until work is completed on or about August 29th.
Work will be weather dependent. 
  
Detours will be posted. 
Please plan accordingly.
Thank you!
---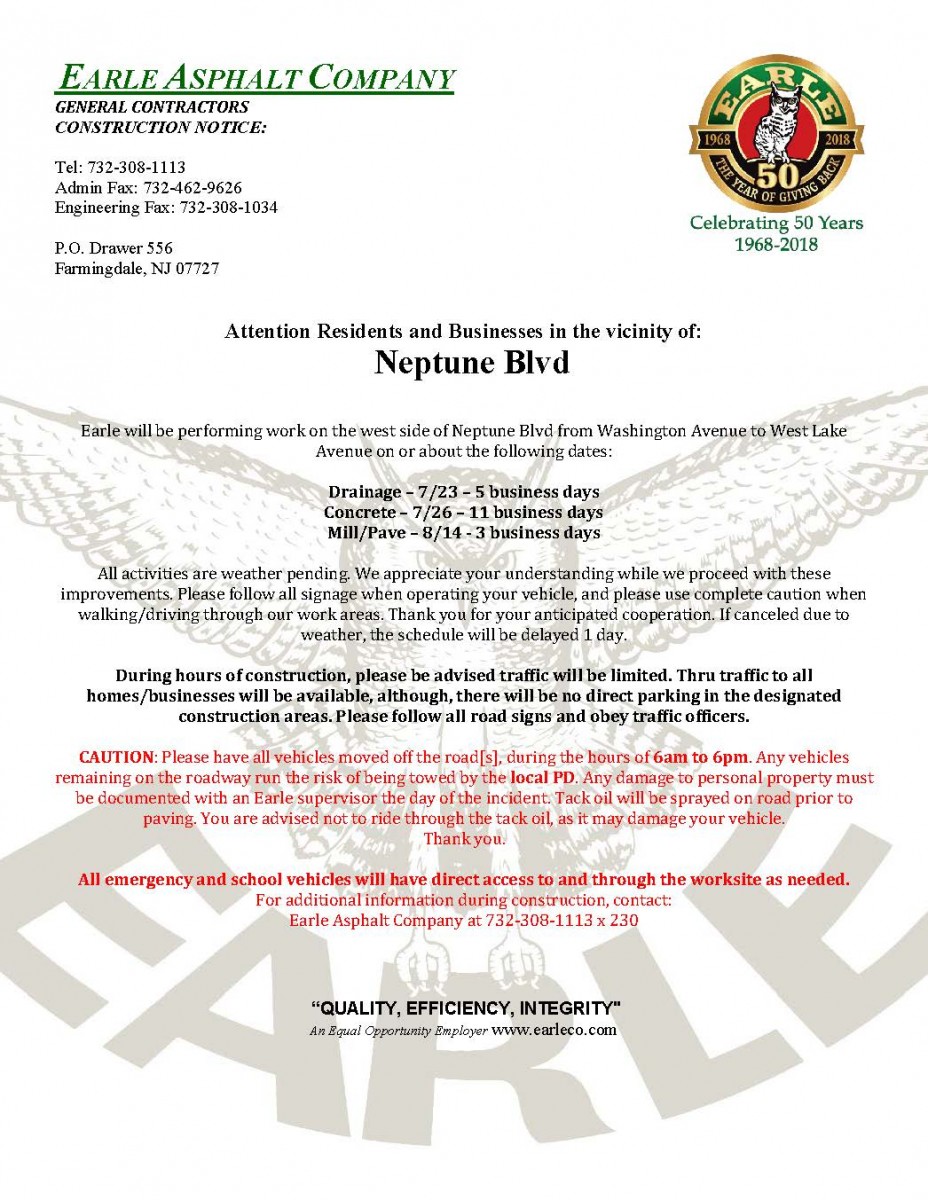 ---
This letter is to inform you that Pioneer Pipe Contractors will be making improvements to the Township of Neptune's Sanitary Sewer System.  The sewer improvements will be completed on Heck Avenue, between Memorial Drive (County Route 40A) and Ridge Avenue.  Work will start at Memorial Drive, and progress to Ridge Ave.
We anticipate the project to be substantially completed in 35 working days (7 weeks).
Working hours on this project will be as follows:
Monday through Friday; 8:00AM to 6:00PM
Please expect local detours and road closures for the duration of the project.  We will work diligently to minimize the inconvenience and maintain access to your homes and businesses.
Please insure that your vehicles are off the street by 6:00AM each morning.  There will be no parking permitted on Heck Avenue in the vicinity of our work area between the hours of 8:00AM and 6:00PM, Monday through Friday.  
This project is scheduled to start on Tuesday, May 7th
We apologize for any inconvenience this may cause and thank you in advance for your cooperation.  If you have any questions regarding the project, please contact Jared Eisenhart at Pioneer Pipe Contractors; (856) 582-5522.
Sincerely,
Pioneer Pipe Contractors, Inc.