02/01/2022
Ocean Grove: To continue to facilitate snow removal efforts, ALTERNATE SIDE SNOW PARKING is in effect for Ocean Grove beginning at 7:00AM on Wednesday, 2/2/2022 with the exception of Main Ave, which will be handled in accordance with already posted signs. Vehicles not parked on the opposite side of the street by 7:00AM tomorrow may be towed. On streets posted with "Snow Emergency – No Parking" signs, this will mean parking on the same side as the "Snow Emergency – No Parking" signs. If the street is not marked with signs, please visit the ordinance using the following link to locate your no parking direction and park on that side: https://neptunetownship.org/departments/weather-emergencies
Please share with friends, family, and neighbors. It is recommended that residents who are able to do so move their vehicles tonight. Lastly, recycling for Ocean Grove scheduled for Wednesday has been moved to Saturday.
---
1/27/2022
MESSAGE FROM NEPTUNE TOWNSHIP OFFICE OF EMERGENCY MANAGEMENT 
                                                                                                                                 1/27/2022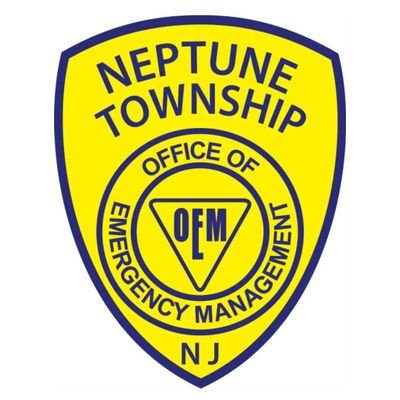 A "Snow Emergency" has been declared for the Township of Neptune effective 7:00 PM on Friday, January 28, 2022 and will remain in effect until the emergency is rescinded. During a declared Snow Emergency, snow parking regulations are in effect and a full list of parking prohibitions can be found below. Residents are recommended to utilize off-street parking wherever possible. 
 Notification of rescission of the declared emergency will be made via the Township "blast email" program, on the Township website, Neptune OEM social media accounts 
(@NeptuneOEM), on the Neptune OEM/PD mobile application, and via the Nixle® Emergency Notification System. All residents are urged to sign up for Nixle Emergency Alert notifications by texting "neptunealert" to the phone number 888777. Residents can also visit ready.gov/winter-weather for general information regarding winter weather preparedness.  
We expect this storm to be accompanied by moderate coastal street flooding, strong winds and bitter cold temperatures. As such, residents are strongly encouraged to refrain from driving in Neptune Township during the storm unless absolutely necessary.  
All municipal agencies are fully prepared to respond to this storm 24/7 throughout this weekend. Please keep in mind the many hazards that our staff must deal with to safely clear our roadways and to respond to emergency needs throughout the storm. Neptune has approximately 400 lane miles of local roadway to clear. Please be patient and understanding as our team works through the day and night to create a safe environment for our community.  
As an alternative to a phone call, residents may report non-emergent issues concerning snow removal efforts via email to our Emergency Operations Center at 
STORM@neptunetownship.org
, and we will do our best to prioritize and respond to these requests. Please do not use this email or any social media messages to report an emergency such as a downed power line, motor vehicle crash, or any other time-sensitive concern. Emergencies should always be reported by calling 9-1-1. 
Important Contact Information for Residents: 
Emergencies (downed power lines, trees, crashes etc.): 
Non-Emergent Concerns (DPW & snow removal):
-
Call 732-775-8797 ext. 504
Power Outages (If accompanied by an emergency, call 9-1-1 first):
-
Visit firstenergycorp.com/outages_help/Report_Power_Outages
-
Call 1-888-544-4877 (1-888-LIGHTSS)
7-7.3Temporary Parking Prohibition for Snow Plowing and Removal.
§ 7-7.3Temporary Parking Prohibition for Snow Plowing and Removal.
[Ord. No. 1000 A. VIII, Sched. XVI; Ord. No. 1061 § 1; Ord. No. 1200 § 57; Ord. No. 1264 § 1; Ord. No. 95-7 § 1; Ord. No. 01-2 § 1; Ord. No. 2016-41] 
a. Whenever snow has fallen and the accumulation is such that it covers the streets or highways, or whenever the Office of Emergency Management Coordinator, or designee, so declares an emergency in advance of an expected snowfall; a snow emergency shall exist and no vehicle, dumpster or roll-off canister shall be parked on any street or highway or portions thereof as follows:
1.
Those streets designated as snow emergency streets herein.
2.
On the side of any street or roadway adjacent to properties with even numbered addresses.
3.
Any street or highway posted as temporary no parking during a snow emergency event.
b.
During a snow emergency, if off-street parking is available, any vehicle shall not be parked on any street or road, notwithstanding the designation as a snow emergency street in subsection 7-
7.3a above.
c.
A snow emergency shall remain in full effect until canceled by the Emergency Management Coordinator, or designee. Such cancellation to be communicated to the public through various media outlets.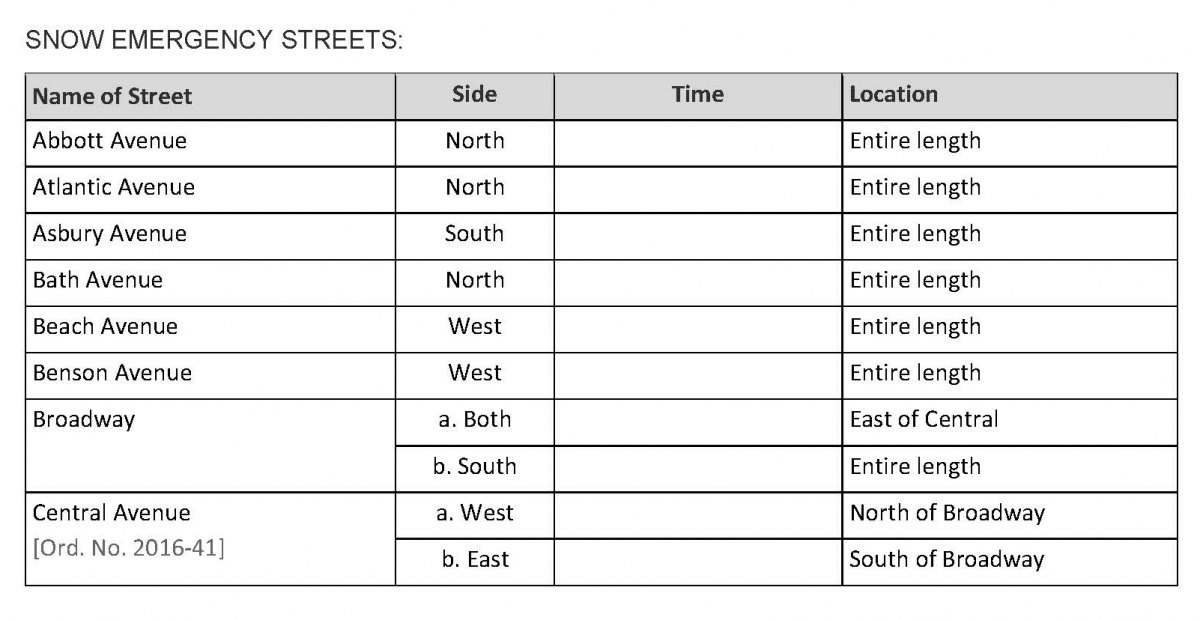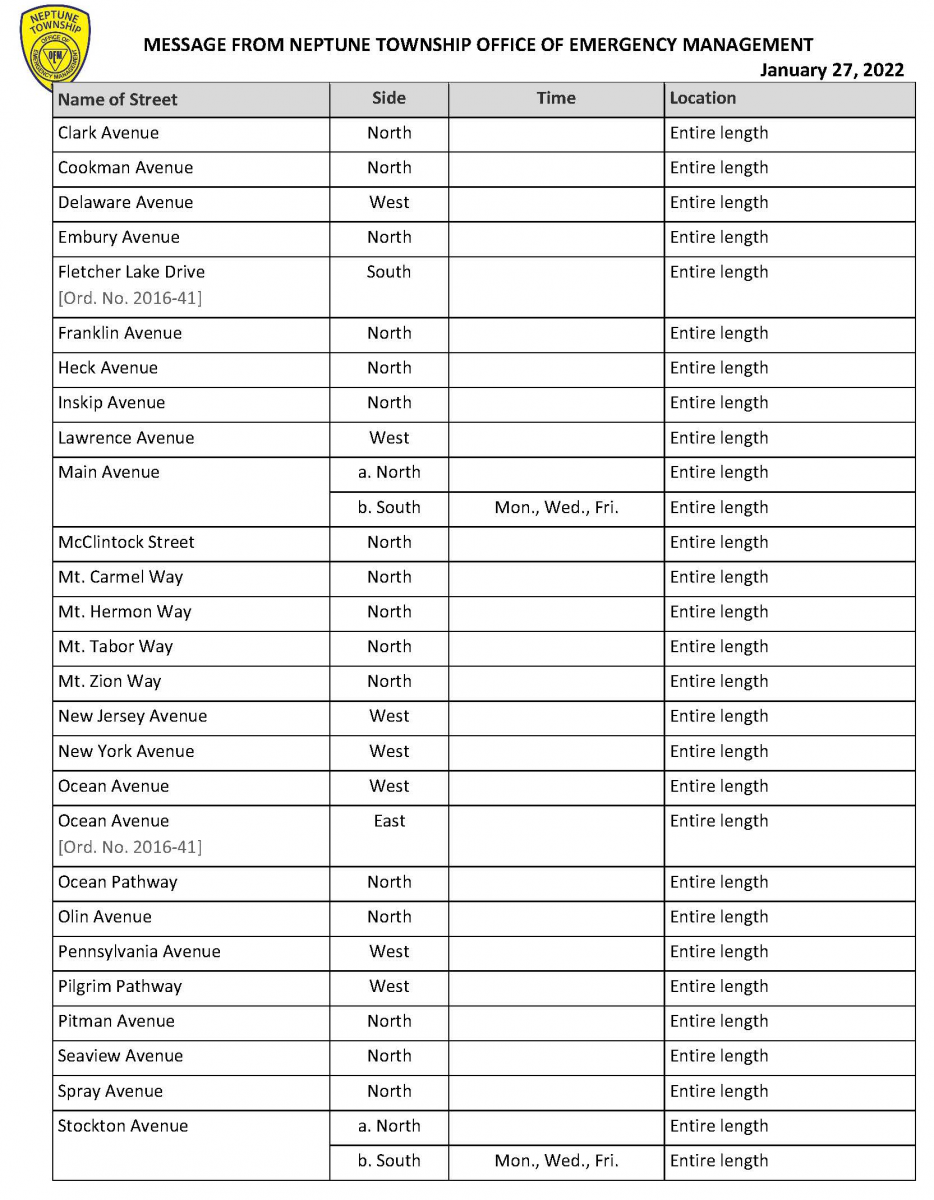 § 13-2. REMOVAL OF SNOW AND ICE.
§ 13-2.1. Responsibility for Removal; Time. [Ord. No. 1369 § 1; Ord. No. 2015-27] The owners and tenants of lands abutting or bordering upon the sidewalks of the public streets and highways in the Township shall remove, or cause to be removed, from sidewalks in front of or bordering on their lands, all snow and ice within twelve (12) hours of daylight after the same shall be formed or fallen thereon.