Main Image: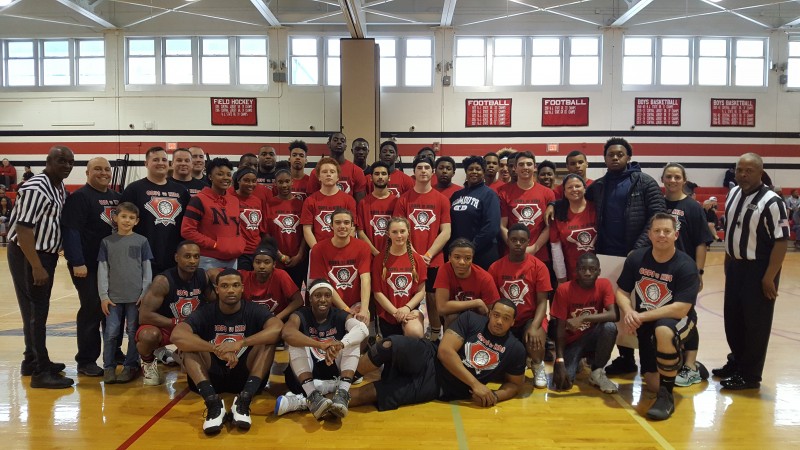 The Neptune Township Municipal Alliance to Prevent Alcoholism and Drug Abuse would like to extend a huge thank you to all who helped make the thirteenth annual Cops vs. Kids basketball game on March 27 such a success!  The prevention message was clear; the game was fun, and the Cops and Kids enjoyed some friendly competition. 
It was a great event—from pre-event sponsorship to the last basket.  The Cops kept up their winning streak with an 85-72 victory. Spectators attempted to shoot foul shots at half time, while wearing Fatal Vision Goggles, simulating what it's like to be impaired by drugs or alcohol. Not many shots even came close!
The Kids' team (fielded and coached by Jen Grippo, Kolbe Blake, & Michelle Moss) included: Jared Kimbrough, Taylor Gardner, Dwaine Jones, Jawan Crenshaw, Robby Lewis, Genesis Fortune-O'Brien, Joshua Ayers, Haroon Afzul, Kevin Clohosey, Nyron Mitchell, Nellie Thomas, Isaiah McCoy, David Regis, La'Niya Edwards, Sean Young, Cairo Henderson-Stewart, Tahmir Richardson, Dylan Schembri, John Gannon, Daishawn Wilburn, and Sanai Taylor.
The Cops' team (coached by Mike Zarro) included: Michael Zarro, Michael McGhee, Chris McKinley, Marques Alston, Kaan Williams, Bryan Taylor, Chris Monahan, Casey Crawford, Joshua Jenkins, Danielle DePalma, Syessence Davis, and Malcom Jenkins.
Special thanks also to Patricia Landers for singing the National Anthem, to Catherine Crelin for handling the prize giveaways, Brent Landers for the Fatal Vision Goggles and door help; and to Mark Clark and William Smalls for refereeing.
Thanks also to: the players; the coaches; scorer and time keepers—Blanche Dunbar and Allayah Huntley; announcer—Tony Richardson; the Neptune High School NJROTC Color Guard—Thomas Barrios, Victor Chicaiza, Genesis Fortune-Obrien, and Omarian Fitzpatrick; the Neptune Dance Team—Ashley Hoffman and Hailey Carpenter; Volunteers: Michael Zarro, Jr, Rachel Zarro, Olivia Coppola, Lakya Fisher, Mya Fisher, Meghan Green, Jackie Lazo-Cruz, and Chloe Waldmann; the Neptune Board of Education; and Neptune Police Officer Mike Zarro, who coordinated the Cops and secured sponsorships.
Thanks to all of our event sponsors, including:  Neptune Township Police PBA #74, Neptune Twp FOP #19, Jersey Mike's Subs, Theo's Demolition & Construction Clean-Up, Impact Auto Body, Automotive Transportation Services, Bruno's Italian Deli, Robert Walzer and Central Sports Association, MJ's, Popeyes, Dunkin' Donuts, McDonalds, Allied Fire & Safety, Nagle's, Midtown Urban Renaissance Corporation (MURC), Neptune Board of Education & High School, the Neptune Municipal Alliance to Prevent Alcoholism and Drug Abuse, and the Neptune Recreation Department.  Funding for this event is also provided through the Governor's Council on Alcohol & Drug Abuse.
Thanks to everyone who supported the game, and in turn, helps us spread our prevention message to the community.  Be sure to look for our next Cops vs. Kids fundraiser, as I heard more than one, "Wait till next time!"
Sincerely,
Dawn Thompson, Recreation Director & Coordinator,
Municipal Alliance to Prevent Alcoholism and Drug Abuse
732-869-1202 
PLEASE CLICK HERE TO SEE PHOTOS FROM THIS WONDERFUL EVENT!